"I've been wishing for this since I was ten years old."
For whatever reason, the past few months have belonged to classic Spielberg. Jaws hit BluRay in August, and Raiders got the IMAX treatment in September. Now its October, and ET is coming home again in a beautiful hi-def restoration of the original film. I'm in no way complaining about this embarrassment of riches: I've been longing to see these films in such wonderful conditions since I was a young kid. Spielberg triggered my love of film with these movies, and I can't imagine I'd be writing these words today if it weren't for that trio of films.
There's absolutely no point in reviewing ET. One can only stand in awe of Spielberg's most personal and beloved film, a film that has become an American classic and cultural touchstone on par with The Wizard of Oz and It's A Wonderful Life. Everything that can be said about ET has already been said by much smarter men than I. I can only offer that I can never get through the film without tearing up. If for some reason you haven't seen ET, just do yourself the immense favor of pre-ordering it right now at the link below. The film has never looked so clear and bright. This transfer is so good it looks like the film was produced last year, not 30 years ago.
The BluRay comes loaded with extras, the best of which is Steven Spielberg and ET, a lengthy interview with the director that just involves the man himself chatting about the film. In addition there's The ET Journals, a good chunk of home movies and behind the scenes footage that was filmed during ET's production. There are also several deleted scenes, a tribute to John Williams' iconic score, and a retrospective featurette.
So there you have it: it's ET on BluRay. What on earth are you waiting for?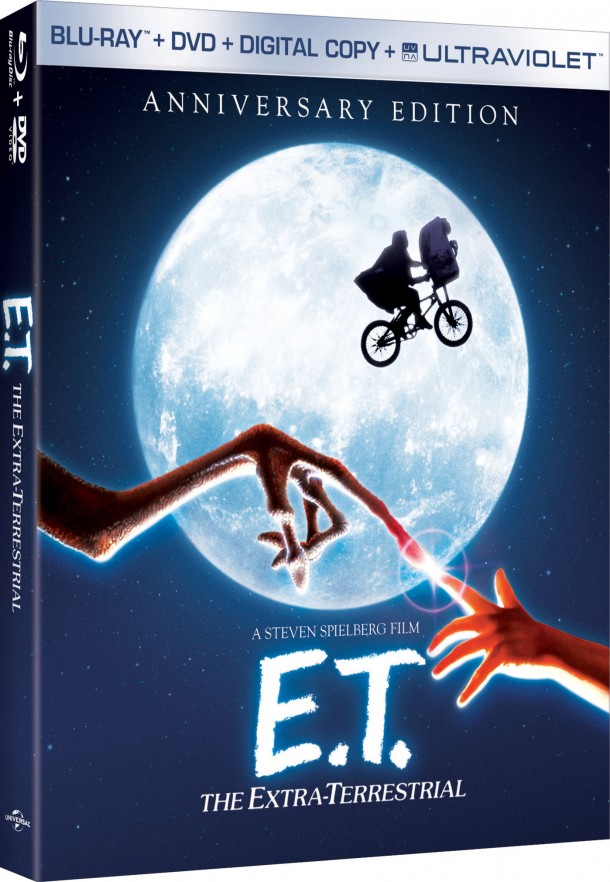 E.T. The Extra-Terrestrial hits store shelves on October 9th. You can pre-order a copy right here.