Contains Spoilers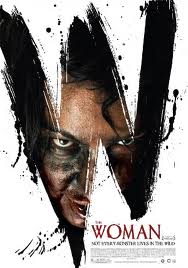 The Woman is an uncompromising film that scarily depicts the extents of domineering fatherhood combined with misogyny, and how it befalls upon a family and the feral titular character.
What seems to be a typical and loving family scenario is quickly revealed to be a frightening case of abuse from both the father and more worryingly the son, who inherits his parent's despicable behaviour. The father than captures a wild woman who he attempts to civilise by imprisoning her in a cellar, and getting his family to help in the process (with intimidating threats if they don't follow orders).
The themes that run through this are difficult to watch, especially with the son in a scene where he explores his sexual curiosity on the helpless woman. However, this is what sets the film as an original creation, since it could run off with a short-lived revenge story, however it takes its time to build the story to its upmost before unleashing the woman to deliver justice, not that this is necessarily the most moral thing to do considering the subject matter, but it makes her revenge ever more satisfying because of it.
What works best for the film's direction is the extremely black humour from the father's false mister nice guy presentation, and at times we feel bad for laughing, yet it is this that provides us with a bit of relief from the uncomfortable experience. If anything the ending loses what made the first two thirds of the film great, as it leaves us with an ambiguous ending following a quick session of violence that rushes to kill the cause of all the pain. Despite this, if your looking for something different in the horror genre than this is a brutal yet undoubtedly well crafted film.
Visit The Woman Official Website.
By Elliot McIntosh