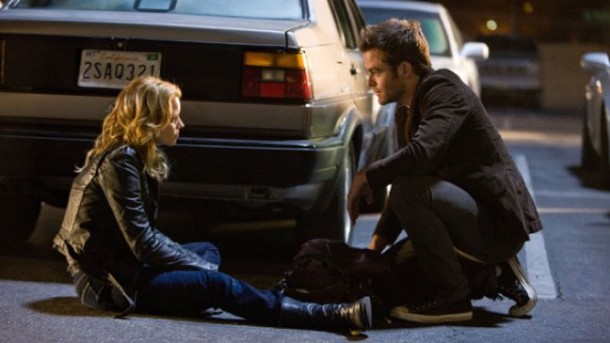 People Like Us, the directorial debut of Alex Kurtzman (writer of Star Trek and Cowboys and Aliens) that features Chris Pine and Olivia Wilde is arriving on BluRay next month.
From the press release:
From the studio that brought you the award-winning blockbuster "The Help," comes an emotional and inspirational story about a young man's journey of self discovery as he connects with a family he barely knows. Starring Chris Pine (Star Trek), Elizabeth Banks (Hunger Games), Olivia Wilde (Tron) and Michelle Pfeiffer (Dark Shadows), DreamWorks Pictures releases "People Like Us" – a must-own, heartfelt and relatable story – on Blu-ray Combo Pack, DVD, Digital and On-Demand on October 2, 2012.

Inspired by true life events, the "People Like Us" Blu-ray Combo Pack comes complete with bonus material that delves deeper into the story that inspired the making of thisgreat film. These extras include audio commentary with filmmakers and talent, an extended scene of L.A.'s popular Henry Taco Stand featured in the film, deleted scenes and bloopers.

"People Like Us" is directed/produced by Alex Kurtzman (Cowboys & Aliens, The Proposal, Star Trek, TV's "Hawaii Five-O"), written by Alex Kurtzman, Roberto Orci (Transformers, Star Trek, Cowboys & Aliens) and Jody Lambert (her first writing debut) and composed by award-winning composer A.R. Rahman (127 Hours, Slumdog Millionaire). Chris Pine, who plays Sam, is a twenty-something, fast-talking salesman whose latest deal collapses the day he learns his father has suddenly died. Against his wishes, Sam is called home to put his father's estate in order and reconnect with his estranged family. While there, he uncovers a startling secret that turns his entire world upside down — he has a 30-year-old sister (Banks) he never knew existed.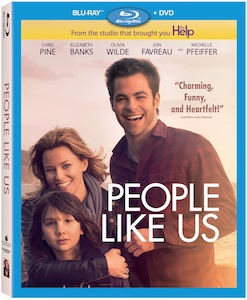 People Like Us hits store shelves on October 2nd. You can preorder a copy here.