Steve Cardenas is best known as Rocky De Santos the 2nd Red Ranger in the Mighty Morphin Power Rangers also as the Blue Ranger in Power Ranger Zeo. Steve also holds multiple awards in Martial Arts, and still has a large fan base at the conventions. Steve has taken time out of his busy schedule to tell us what he has been up to.
Aprilyn: Hi Steve and welcome to Movie Vine. Thank you for taking time out to speak to us.
Steve: Thanks!
Aprilyn: When my son was younger he wanted to be the Red Power Ranger every year for Halloween. I have a bunch of pictures of him as the Red Ranger. Thank you for being a positive role model to little boys and girls all over the world. How does it feel knowing you have millions of children looking up to you because of the character you played?
Steve: At first it was a little overwhelming but as I got older I embraced it a lot more. Although I did already have a few years practice prior to Rangers as I was a Karate instructor and teaching kids for a long time as a teenager.
Aprilyn: How do you feel about Saban and the filming of Super Mega Force?
Steve: I don't know much about the new ranger incarnations, but I'm glad Saban has taken back the reins and made the show more popular and mainstream again.
Aprilyn: How amazing is it to still be a part of something as big as the Power Rangers?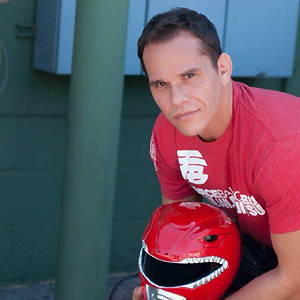 Steve: I'm very proud of the work we did as Rangers. We really were able to touch a lot of lives and that's something no one will ever be able to take away from me. That's why now I like to give back to the fans by attending conventions and doing meet and greets for the kids who have all grown up and are now reliving their childhoods. It's very cool!
Aprilyn: Who or what inspired you to get into Martial Arts?
Steve: The Karate Kid. Totally! I related to him sooo much because I was a very awkward kid with very poor social skills and was constantly bullied through my elementary school years. To this day it really strikes a nerve when I hear about kids getting bullied or cyber bullied. I also love seeing videos of bullies getting their just desserts for starting crap with the wrong person. Haha
Aprilyn: I read some interesting info about you teaching kids how to handle bullies. I shared the info with a friend of mine who has young children and I was wondering if you would like to share it with our audience?
Steve: Bullies seek people who look like victims. People who don't look like they'll give that bully a lot of resistance. That's how insecure people make themselves feel better. So if someone is the type of person who smiles a lot, walks straight, looks people in the eye and can generally handle themselves in a social setting, a bully will most likely not seek to confront that individual. So don't act like a victim.
Aprilyn: Have you ever personally experienced bullying?
Steve: As I mentioned earlier, I was totally terrorized by the neighborhood kids. It's all because I spoke when I shouldn't have and sometimes didn't speak when I should have. I was very insecure but Tae Kwon Do really pulled me out of my shell.
Aprilyn: Do you ever run into overzealous fans that try to push you into a situation? If so how do you defuse the situation?
Steve: Thankfully I've never had that kind of fan confront me before.
Aprilyn: Do you still compete in Martial Arts? If so what was your last competition?
Steve: I do. I compete in Brazilian Jiu Jitsu tournaments a few times a year. It's mostly to inspire my students to get out there and challenge themselves. And to advertise the school I own Force Balance Brazilian Jiu Jitsu. I currently teach Brazilian Jiu Jitsu. It's a form of martial arts that involves ground fighting. All fights usually end up on the ground so you should know how to use your leverage when you're on your back, especially if someone is much bigger than you.
Aprilyn: What form of Martial Arts did you use when you were a Power Ranger?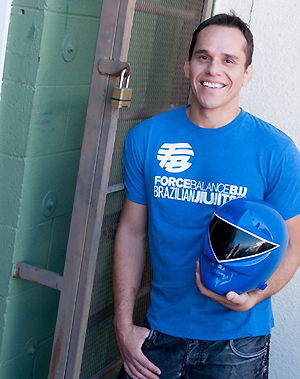 Steve: I studied American Tae Kwon Do. I now hold a 5th degree black belt in that style…
Aprilyn: What or who got you started doing conventions?
Steve: I did my first convention back in 2007. Then I did a few from then until about 2010. But, I needed to focus on building Force Balance, so I took some time off. Then Jason Frank (the Green Ranger) convinced me to start coming back, so I've been back on the circuit since July of this year.
Aprilyn: What is one of your most memorable moments at a convention?
Steve: Seeing all the great costumes that the fans have created. The dedication to the costumes they make is unprecedented.
Aprilyn: How does it feel after 19 years knowing that you still have a big fan following?
Steve: Who doesn't like people lining up to tell you how awesome you are? 🙂
Aprilyn: Do you own your own Power Ranger Red or Blue costumes?
Steve: Yes. I do appearances in costume to take pic with the fans.
Aprilyn: What is the next project that you will be working on?
Steve: No new projects. Just shows and my studio, that's it. Sorry everyone, but come see me in person!!! I announce on my fan page every week places that I'll be attending.
Thanks Steve!
You can keep up with Steve's convention announcements through his Twitter and Facebook fan page. Be sure to also visit his Force Balance academy website to learn more about his Brazilian Jiu Jitsu classes.