A gifted comedian and actor, Aaron Berg has worked from the ground up to build a name for himself. Described as both shocking and hysterical, he can be found performing stand up all through New York City and around the world. Nicole sat down with him to discuss his newest TV endeavor and how comedians are the world's funniest philosophers.
Welcome to Movie Vine, Aaron! It's a pleasure to have you. So I've noticed a trend with your name: it comes up almost always in tandem with great reviews about your smart, bold humor. Constantly brilliant comedians are like a gift so that's amazing. What sent you down the comedy road in the first place?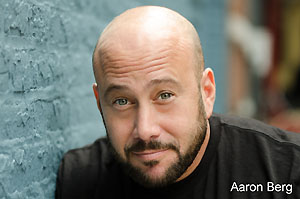 Aaron: I had done a movie years ago called Detroit Rock City. I figured since I had a couple of scenes in a movie, I was gonna blow up. That's not what happened. I did Detroit Rock City and then didn't get anything else right away like I figured I would. I needed to be doing something creatively and acting work was too dependent upon other people giving you a shot. So I started doing stand-up. I signed up for amateur night at Yuk Yuk's in Toronto. I was horrible at first, but after about 6 years of doing itevery night, I got into a groove. I discovered that by being unique and by being yourself, great opportunities would open up.
MV: Comedy has taken you to interesting places. One of the most fascinating being Israel. How about we talk about that? A Universal Language, the movie that was made out there with you and several other comics, put you all on a potential cultural landmine. I've gotta ask: what made you say yes to the project?
Aaron: I was raised Jewish, but I was never very religious. That being said, I always wanted to go to Israel but was never given an opportunity. I am always excited by the idea of performing in a place I've never performed. Mark Breslin, the owner of Yuk Yuks came to me with the idea about the Israel trip years ago and it took that long to make it happen. So many people were involved in giving us this great experience. I never let fear control any of my decisions, so we leapt in to this experience wholeheartedly. As comics in Israel, we pushed buttons, we offended people, and we made people laugh. That's our job!
MV: What was it like to be out on stage in front of an audience that is terrified (for the most part) to laugh at a raunchy joke?
Aaron: I loved the challenge of it. I also think that aside from being raunchy, I'm funny first. Once the audience is in your world, you can take them wherever you want them to go.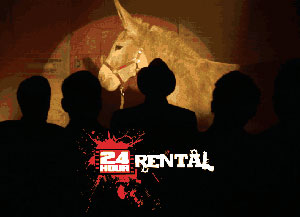 MV: I understand you just wrapped a new show called 24 Hour Rental. What can you share about it and your character?
Aaron: 24 Hour Rental is a dream project for me. It is gallows humor, two weeks after the execution. It's best described as a deviant gangster parody; satirizing our obsession, glorification and worship of anti-heroes. It is hilarious. It airs on Superchannel in Canada starting this fall and the American cable network is TBA. My character is Floyd. He has a degree in existential philosophy and comparative religion…which is why he drives a cab. The show deals with my best friend Tracker, who is trying to work his way back into an organized crime family after some dark days. He runs a 24 hour rental video store, which houses many illegal activities. Oh, and Floyd is married to a prostitute. I got to work with great people. George Mihalka is the director and Al Kratina wrote this masterpiece. We shot like a film as opposed to a traditional episodic, so we're excited. Great actors involved too.
MV: I happened to catch an older trailer for it but I understand that you are part of a new cast, is that right? Will there be a new one to look for soon then?
Aaron: That's correct. This project has been in development for a while. Almost all of the cast is new. New trailer should be out in the next month or two.
MV: I saw that the show has a Twitter as well, which I will be following immediately. I'm very curious about it. How did you get involved?
Aaron: I had two auditions which I fought for alongside my agent. The first one went well, then I got a callback. Then they canceled my callback as they had a shortlist of people. Then they called me back. I felt good about it and kept hoping for the call. After two weeks, I forgot about it. Then the call came. I flew from NYC to Toronto and shot the best thing of my life! Or how did I get involved with Twitter? I feel like it's a great tool to let people know where you will be performing and to stay funny in short spurts.
MV: And just so I can mark my calendar: is there a release date?
Aaron: First week of September!
MV: You mentioned that 24 Hour Rental is satirizing the worship of anti-heroes. As a comedian, you speak the truth in an unconventional manner so that we, the audience, can take it in better and cheer you on by the end. Could comics be considered anti-heroes?

Aaron: Absolutely. I think the entire concept of a comic is to battle against the mainstream. The point is to be an outsider so that we can pick apart what is wrong with society and make ourselves the bad guy. In most of my stories I am not necessarily evil, but I act self-indulgently to hold the mirror up to humanity. I think that the best comics in our world, take us on personal journeys and make us think about ourselves, while laughing from the gut.
MV: What do you think it is about a joke that allows us to process life's truths better?
Aaron: It is the very recognition of a certain hypocrisy or absurdity in hearing a joke that makes us realize the truth behind it. Once we realize the truth, we recognize that we too are guilty of those thoughts or those actions and then we don't feel as alone. In that sense, comedy brings us together.
MV: The show's dark humor sounds like it worked really well with you. Does doing stand up have you seeking out comedic roles like this?
Aaron: I think that as an actor I always want to go in between comedy and drama. This was just such a great role and I knew my stand-up would serve me well in it. The director, George Mihalka loves working with stand-ups because he feels they bring something extra. I would have to agree. We see more and more stand-ups breaking big in TV and film and there's a reason for that.
MV: Last question: according to your site, you added some more tour dates. Does it ever get difficult juggling stand up and acting?
Aaron: I've had to cancel some tour dates because of TV commitments. Stand-up is my passion but it also get exhausting. I recently did 22 shows in a week in NYC. Creatively, I feel depleted after that many shows. I believe that as artists we don't need to pigeon hole ourselves, which is why I intend to break more out of the mold. The longest I've taken a break from stand-up in the past 12 years has been one week. That may change in the upcoming months. I really want to do some theatre again.
MV: Thanks for chatting with me, Aaron. I'm looking forward to 24 Hour Rental and wish you all the luck!
Don't forget to follow Aaron on Twitter and to stay up to date on his projects here. Find out more about 24 Hour Rental here.
By Nicole Carter