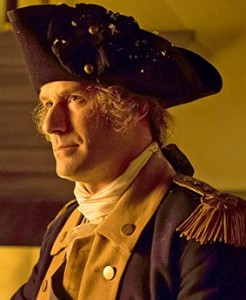 With an already stunning first four episodes to begin its first Season, Turn doesn't seem to be slowing down. The next episode's preview has shown viewers that George Washington's crossing of the Delaware River will be featured. Though not yet shown in the series thus far, George Washington will be portrayed by Ian Kahn, whom I expect to appear in this next episode.
As seen in promotional photos and preview footage, the new episode will feature Abraham Woodhull (Jamie Bell), Benjamin Tallmadge (Seth Numrich) Caleb Brewster (Daniel Henshall), Anna Strong (Heather Lind) Richard Woodhull (Kevin R. McNally), Robert Rogers (Angus Macfayden) and Charles Lee (Brian T. Finney).
The series follows the Culper Ring, a spy ring founded during the American Revolution, which Abraham, Benjamin and Caleb are a part of, along with Anna Strong (Heather Lind), who were put together under the command of General George Washington.
Turn airs on Sunday nights at 9/8c on AMC. You can find out more about the show on the official website, Facebook and Twitter.