Fall's newest Daytime TV show, The Chew, debuts today at 1pm ET/12 PT/C on ABC.
Here's a bit about the show:
Celebrating and exploring life through food, "The Chew" is an innovative and groundbreaking daytime program co-hosted by a dynamic group of engaging, fun, relatable experts in food, style, and entertaining.

The Emmy award winning creators of "Paula Deen's Home Cooking"and "Down Home With The Neely's", have combined the tools, tips, tricks and recipes to bring your family and friends together with memorable personalities to create a live, one hour daytime talk show where viewers get the dish on anything and everything related to the world of food and beyond.

As a source of joy, health, family ritual, friendship, breaking news, dating, fitness, travel adventures, and life's best moments- food is at the center of everyone's life. The hosts' rich and varied mix of experiences stirs up honest and lively exchanges to make life better, fuller and more fun. With the best lifestyle team on TV, "The Chew" is a leap forward into a delicious new kind of talk show.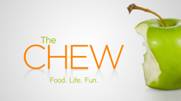 Here's a bit about the co-hosts of the show:
MARIO BATALI
Critically acclaimed chef, restaurateur, award-winning author, and television personality, MARIO BATALI is arguably one of the most recognized and respected chefs working in America today. Mario is also the chef/owner of Babbo Ristorante e Enoteca, Lupa Osteria Romana , Otto Enoteca Pizzeria, Casa Mono, Bar Jamón, Del Posto, Osteria Mozza and Pizzeria Mozza, Mozza2Go,Scuola di Pizza, Carnevino Italian Steakhouse . An apprenticeship with London's legendary chef Marco Pierre White and three years of intense culinary training in the Northern Italian village of Borgo Capanne gave him the essential skills and knowledge to return to his native U.S., eager to plant his orange-clogged foot firmly on the behinds of the checkered-tablecloth Italian restaurant establishment.
MICHAEL SYMON
Michael Symon cooks with soul. Growing up in a Greek and Sicilian family, the Cleveland native creates boldly flavored, deeply satisfying dishes at his four restaurants in America's heartland: Lola, Lolita, Roast and B Spot. He also shares his exuberant, approachable cooking style and infectious laugh with viewers as an Iron Chef on the Food Network.
CLINTON KELLY
Clinton Kelly is best known for the warm humor and style advice he brings each week to TLC's highly rated What Not to Wear. Since 2003 he has starred in more than 270 hour-long episodes of the series, in addition to several specials for TLC including Miss America (2008-2010), Fashioning a Home with Clinton Kelly, Mind Your Manners and Redo My Spouse.
CARLA HALL
"Ticky boo" … "Hootiehoo!" … "Toodles Poodles!" Carla Hall's signature catchphrases reflect her whimsical approach to life. "It's all about having fun," she says, belying the thoughtfulness with which she approaches her profession. America fell in love with Carla's heart-felt approach as she cooked her way into the finals on season five of the award-winning Bravo show, Top Chef and recently returned to win the Fan Favorite Award in this past season's Top Chef All Stars.
DAPHNE OZ
DAPHNE OZ is a 2008 graduate of Princeton University, and the author of the national bestseller The Dorm Room Diet, first published in 2006. Daphne and her book have been featured in The New York Times, People, Reader's Digest, Teen Vogue, Seventeen, Cosmo Girl!, and The Wall Street Journal, and on Good Morning America, The Tyra Banks Show, Fox & Friends, and NPR's Weekend Edition.
Get more info at the official website: http://beta.abc.go.com/shows/the-chew