Mike Dopud has taken the road less traveled on his journey in life. He is the kind of person Ben Franklin was referring to when he said "you can do anything you set your mind to". With a degree in hand Mike began his athletic career as a football player. After an injury ended his football career he grabbed a stick and played professional hockey instead. When he suffered another injury he switched gears to become a stuntman and actor. Never looking back, he has enjoyed great success spanning nearly twenty years in the entertainment industry. Mike recently carved his name on the next to impossible when he received a Leo nomination for his performance in a made for TV Sci Fi movie. No one saw that coming. Except maybe Ben Franklin. We caught up with Mike to discuss his nomination, acting in Man of Steel, and meeting his character Olivier in tonight's episode of Mistresses.
MV: Welcome to Movie Vine, Mike.
Mike: Hey Jan, happy to be here.
MV: Congratulations on your Leo nomination for Best Supporting Performance by a Male in a Television Movie for SyFy's Tasmanian Devils. Did it ever cross your mind while filming a fun horror movie that you would end up with a Leo nomination?
Mike: Thank you so much! First off … I have to admit there was no way in a million years that I thought that I would be nominated for Tasmanian Devils. I was ummmm how do I put it … "stunned". Having said that it was a blast shooting that movie. One of my best experiences on a set. Our director Zack (Lipovsky) and the cast were awesome. We were all on the same page so to speak, and I knew most of the cast prior to shooting which made it fun.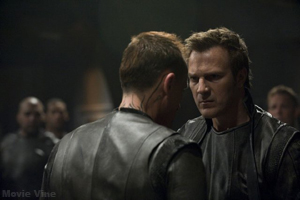 MV: You have a lot of experience in the Sci Fi genre. Is there a particular character of yours that fans have really attached to or connected with?
Mike: I'll tell ya, I have no idea why I migrated to Sci Fi. Sometimes your career just takes you on a path that you can't control. Having said that, I have enjoyed it thoroughly. Sci Fi fans are the best. I would probably venture to say the fans seem to relate to 'Varro' from SGU (Stargate Universe) the most. As well, I get recognized for 'Kiryk' from Stargate: Atlantis.
MV: This weekend marked the opening of the much anticipated Man of Steel. What can we expect from this latest installment about the life of Superman?
Mike: Man of Steel is quite the ride. Tons of action. I think Russell (Crowe) and Amy Adams stand out. I was curious as to how they could make Superman 'cool' again. The opening of Man of Steel was great as well. My son said "you know Dad, they should make this Superman movie the first one!!". I think it's a great reboot for the franchise.
MV: When working on such an iconic film, what were some of the unexpected challenges as an actor in perfecting the minute details?
Mike: Honestly, none. (laughs) Look, I play a Canadian Airman on Man of Steel. First off I am Canadian so it wasn't much of a stretch. (laughs) It was interesting in the fact that I wasn't sure what I'd be doing when I was cast. I was up for one of the other characters (which shall remain nameless). I didn't get it, but they asked if I would come in for a day and I said "absolutely!!!". Everything was so secretive that I basically showed up, and then we talked about the scene a little, and it was pretty much ad-lib from that point on.
MV: How does this Superman differ from the Christopher Reeve version we grew up watching as kids?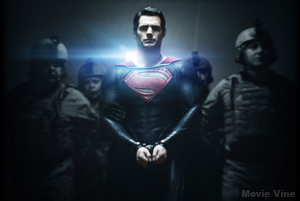 Mike: Man of Steel differs in the way that I think is an evolution and progression to the Christopher Reeve versions. Obviously technology has a huge impact. The flying scenes look much better now. And, I like the way they made Superman a little darker than the previous ones. I will admit that I still think of Christopher Reeve whenever I hear the name Superman. (Still think he was the best).
MV: Superman is always trying to find the balance between his true identity and being human. Do you think the same holds true for being an actor? You have to find the balance between yourself and your characters, life on set and life at home, and even just finding ways to stay grounded in reality.
Mike: (laughs) Absolutely!! Every once in a while I have to "remind myself" that oh yeah that's not me. I've been doing this long enough that I think I have a good enough grasp of the difference, but let's not forget that I'm an 'actor' so I'm a little messed up to begin with … (laughs). OOPS did I say that out loud…
MV: (laughs) This wasn't your first experience on a Superman project. You were also on Smallville which focused on the adolescent years of Clark Kent. What have you found to be the most interesting themes in the storylines revolving around Superman's upbringing?
Mike: You know, ironically enough, growing up I never focused on how 'hard' it must have been to grow up as a different kid, sort of an outcast. It's funny because I grew up as an immigrant which I was reminded of all the time. I had to deal with bullies and such, but I was so enamored with Superman's 'super powers' that it was all I focused on. I always imagined what it would be like to fly or have incredible strength.
MV: What superhero did you most want to be when you grew up, and what are some of the things you did as a kid while running around with a cape on?
Mike: Obviously Superman and Batman were my two favorites. I remember running through the house pretending I was flying. I remember getting carried away one day and running so fast (pretending I was flying) that I ran right into the edge of the ceiling as I was running down the stairs and I knocked myself out. (laughs) Apparently, I had just experienced a growth spurt.
MV: (laughs) Ouch! Monday marks the introduction of your character Olivier on ABC's new show Mistresses. What can you tell us about Olivier and his place in this tangled web?
Mike: Yes it is!!! Basically Olivier is a European business tycoon who has come to L.A. to run the Real Estate firm that Joss (Jes Macallan) works for. He is very 'French', and worldly, and I'll leave it at that. Olivier becomes a thorn in the side of Jes and the rest of the episodes touch on how they deal with the evolution of their relationship. A lot of interesting things happen.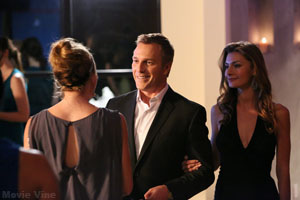 MV: Mistresses has an amazing cast, and tells the age old story of betrayal from multiple angles. With such highly emotionally charged scenes what is the mood like off camera?
Mike: Most of my scenes are with Jes, but from the first read through, they accepted me into the fold. And, I was very fortunate to be working with Jes. She is the best, not to mention beautiful! Can I say that? (laughs) We would always talk things through before scenes and we had an open line of communication so it was awesome. And, yes we goofed around off camera a lot, I tend to do that often.
MV: Mistresses is filmed in Los Angeles. What are some enjoyable aspects of traveling you have discovered while commuting between Vancouver and Los Angeles?
Mike: I am mostly in L.A. and I just love the fact that it is a relatively short commute. I love L.A. and Vancouver. Having a hard time letting go of Vancouver, but I am really enjoying L.A.
MV: You play Big Jack in the upcoming Tao of Surfing. How much training and rehearsal did you have before taking on such an interesting role?
Mike: Training and rehearsal? (laughs) Can you say "none"? Lou Diamond Phillips called me on a Thursday and said "I need you to play Big Jack". I said "ok, when?" He said "tomorrow". Basically flew up to Santa Cruz the next day, had a read thru, and then started shooting the next morning. Basically we had spoken about the project months prior, but we had some scheduling issues and didn't think I could do it. But, it all worked out in the end.
MV: Did you know how to surf before joining the cast?
Mike: Not at all. I reminded Lou "you know I don't surf, right???" I do snowboard. But, I took some lessons and we will shoot most of the surfing sequences in October so I am really looking forward to it. Training now as we speak.
MV: Tao of Surfing deals with some profound life and death moments through the experiences of its characters. What would you like audiences to take away from this film?
Mike: I just think it's a beautiful and emotional journey that this group of friends go on, and it's a story that needs to be told. I believe this movie will touch your heart. And, it's based on a true story so it will tug at your heart strings.
MV: You are currently working on Citizen Jane. Are you able to share anything about your character?
Mike: I can share a little bit. I am playing Col. Summers from The Canadian Military. He is a career military man, and he is very adamant about his views when it comes to life and homosexuality. I'll leave it at that.
MV: Would you mind walking us through your journey starting from when you were a pro-athlete to your decision to pursue stunt work and acting?
Mike: First off, I always wanted to be in movies. I used to reenact scenes from various movies (mostly action movies) such as Mad Max, Escape from New York, etc. My brother and I would always watch these movies, and I always thought it would be such a cool life. Finally when my sports career was done, I wasn't sure what I wanted to do. Tried the corporate world, which was fine, but I was missing 'something'. Then I said to myself 'why not acting?'. So I went to the union office and asked the receptionist "how do I become an actor?". She looked at me with a surprised look and gave me a list of agents, and then I started to call them one by one.
MV: Did you find that your background in sports made for an easy transition into stunts?
Mike: Absolutely. Probably one of the best ways to get into stunts. When you play sports at a high level, you tend to have great timing and body awareness which is critical when it comes to performing stunts.
MV: What advice would you give to other athletes dealing with career ending injuries?
Mike: Don't let depression get the best of you. The hardest thing when a sports career doesn't work out is 'coming home' and answering all of the questions. It's something that you've spent your whole life trying to achieve and it's taken away with one phone call. You need to surround yourself with people who love you. And, most athletes that I know are very driven so it's just a matter of time before you get back on your feet.
MV: Last question, after spending a lot of time on Sci Fi sets, what is the coolest gadget you have used that you hope will one day be in existence?
Mike: Bar none the coolest gadget was the 'teleportation' device that I had on SGA as Kiryk. I could transport to different places with the touch of a button. This device would mold and blend onto my arm as if it was part of my forearm. Pretty cool if I do say so myself!
MV: Very cool! Thank you so much for hanging out with Movie Vine today, Mike. We are looking forward to seeing you in Man of Steel and Mistresses.
Mike: It was my pleasure. Woo hoo!! Please let me know what you think of Man of Steel and Mistresses. But, you have to be nice … just kidding. Have a great week!
*Be sure to follow Mike on Twitter (@dopudmike) then catch him in Man of Steel (now playing) and Mistresses (ABC Monday Nights).