Fans of AMC's 'The Walking Dead' know him as the guy who tried to double cross Rick and took a machete blow to the skull for his trouble, but actor Nick Gomez has been steadily working in TV and movies for years. He recently sat down with Movie Vine to discuss his part on the hugely popular show, his love of sci-fi, and how his mom wishes he would someday play a character who doesn't die violently.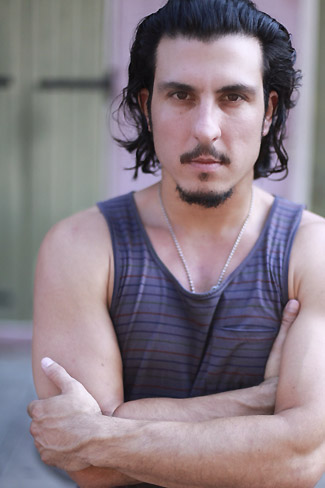 Katie: Welcome to Movie Vine, Nick! You're an extremely hard-working actor. This past year alone you were cast in multiple projects for film and TV including sci-fi feature, "Looper," kick-ass action flick, "Act of Valor," and of course, you also did a stint on AMC's mega-hit "The Walking Dead." 2012 was huge for you. As a working actor, do you say to yourself, 'I've arrived,' at that point? How are you feeling with the place you're at in your career?
Nick: I hope I never get to the point where I say "I've arrived." That sounds like a terribly dull place to be. The journey is the thing. The ups and downs, the struggle, the victories, the constant growth and discovery. As a person and as an artist. It's been a long road for me already with many ups and downs but I appreciate the low moments as much as the highs. That's what makes the highs so high. I couldn't have kept on this path if I couldn't sort of romanticize being broke and hungry. At the moment I'm at a really fun and exciting time in my career. More doors opening means more projects and the ability to be more discerning with the projects I pick. It's hard to be picky when you're hungry and have to pay rent.
Katie: Absolutely. That's a solid collection of genre projects you've participated in. What appeals to you about action and sci-fi?
Nick: I grew up reading a lot of sci-fi and supernatural books. Michael Crichton, Dean Koontz etc. My favorite book as a kid was "Hitchhiker's Guide to the Galaxy." I've always wanted to be on the lam from the FBI with a golden retriever and having to chase down some mysterious force to save the world.
Katie: I think we've all fantasized about that once or twice. Why do you think you're frequently cast in projects from those genres?
Nick: Not sure. Maybe because I have a wild imagination that allows me to go there. Maybe I just got that kinda face. Might be the broken nose.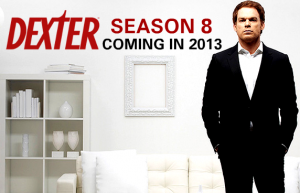 Katie: It was also just announced that you're going to be featured on the next season of the long running Showtime series, "Dexter." What can you tell us about your role on the show?
Nick: I can't say much about "Dexter" besides the fact that I play Javier Guzman and I might not be the most ethical person on the show, which isn't saying much I know. I'm super thrilled to be on the show though!
Katie: It's an exciting series to join: the show's previous guest stars have included the likes of Edward James Olmos, Julia Stiles, and of course as the ultimate villain, Trinity, John Lithgow. How does it feel to be included in that pantheon?
Nick: Beyond honored and lucky!
Katie: You're no stranger to jumping into the ensembles of popular shows–you played an extremely impactful, though short-lived, character on "The Walking Dead." Is it tough to be the new guy on a show that's already established with such a strong fan base?
Nick: You know my experience with "TWD" and now "Dexter" has been wonderful! Usually as the new kid on a long running show you feel outta place a bit and you just hit your mark and say your line but with these two shows it's been different. Everyone was so welcoming and kind and gracious. The crew, cast, as well as the fans. It's a great feeling and really allows you the room to breathe and fully commit to what you're doing without second guessing yourself which can be death!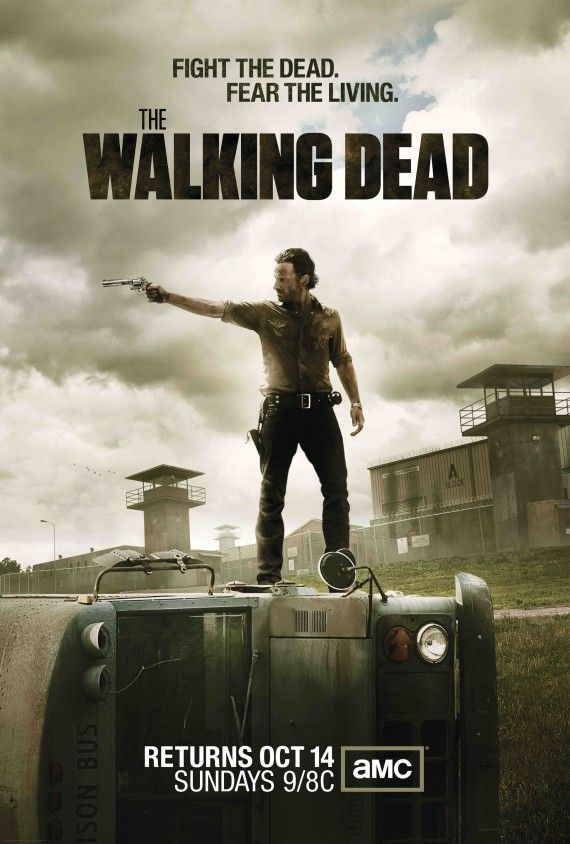 Nick: Haha! Yeah, that would be pretty awesome. Well, I was in and out so quick there really wasn't time for people to be caught too off guard. Tomas definitely had it coming, unfortunately for me.
Katie: Do you consider it a badge of honor to be counted among such fine actors also killed in shockingly violent ways?
Nick: Of course! Though my mother is looking forward to me playing a nice guy that doesn't get his head chopped in half. Whenever I book a new role she always asks the same question. "Do you live?" And I always reply the same way: "For a bit."
Katie: Tomas was seemingly an irredeemably dark character. How do you prepare for a role that entails so much anger and violence? How do you identify the humanity there and empathize?
Nick: Well, first of all I didn't have much time to prepare for Tomas. I was given the script the day before filming so I just had to jump. But I love playing characters like Tomas for two main reasons. One, I like the journey to understanding how he got that way. With Tomas he probably grew up in an environment where the one thing he feared most was letting other people think he was afraid. Two, I try to be as civilized as possible in my real life so when my job demands I become an asshole you better believe I'm going for it completely. Hey, it's my job.
Katie: Sure, it's always fun to play the bad guy and walk on the wild side! "The Walking Dead" is insanely popular right now with audiences, myself included. It's a show about retaining humanity in the face of a reality void of hope. You have an insider's perspective–why do you think the show resonate so profoundly with TV viewers today?
Nick: Who doesn't want a clean slate? All of a sudden you don't have to worry about the energy bill, rent, that project at work you've been putting off. And not only that but you're super annoying neighbor is now a zombie and it's your duty to shoot him in the head!
Katie: That's a refreshing take on what the show means to viewers–if you're unhappy with your lot in life, the zombie apocalypse offers a chance to make a change. I like it. Are you involved in the second half of this season at all on the show? Dying on "The Walking Dead" doesn't necessarily mean you're off the show in some cases.
Nick: Yeah, I tried to bargain my way back but I think that's it for me. But then again I have no idea!
Katie: Before you encountered Rick Grimes and his machete, you worked steadily for years–your resume includes a wide array of film and TV projects including 90's teen drama "Dawson's Creek," and Nicholas Cage vehicle, "The Bad Lieutenant: Port of Call – New Orleans." Do people on the street recognize you? What role are you most known for?
Nick: I've definitely been much more recognizable since "TWD." That's definitely my highest profile role to date. That and "Vampires Suck," unfortunately.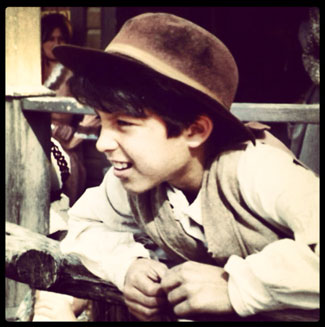 Katie: "Twilight" strikes again. Is it true you got your start acting on the New York stage?
Nick: I did a lot of theatre in NYC but there was an old abandoned western film set a few miles down the dirt road from the little trailer I grew up in. They started using it again when I was about 8 and I would bike there after school and watch them film. They started putting me in the movies and that's how it all started.
Katie: What prompted you to switch from working in theater to TV and film?
Nick: Almost impossible to pay rent doing theatre! Especially in New York! But I hope to go back to it soon.
Katie: In addition to your hectic acting schedule, you manage to find time for music–you play the guitar and ukulele–and are a budding photographer (visit Nick's photography website here: www.nickgomez.zenfolio.com). Do you ever feel that you would rather commit fully to your music or photography? Is acting your first passion?
Nick: Acting is definitely my first love! I just love learning new things and expanding myself as a person so I take up different hobbies.
Katie: You seem very committed to photography, how did you discover your affinity for that art form?
Nick: I've always loved photography and that coincided with my love of New Orleans and my need to share the city in a unique way with friends and family that couldn't be there.
Katie: Do you have any other hobbies? How do you relax when you're not working?
Nick: I love taking random road trips on my motorcycle! And anything nature! Climbing mountains, camping, white water rafting etc. I'm a pretty adventurous guy and I like it when things don't go according to plan because that's when the real adventure begins.
Katie: What's your taste in TV and movies? Do you like to watch the projects you work on?
Nick: I usually don't watch movies or shows that I'm on. "TWD" was different as I was such a fan of the show already. I like comedy. I could watch "Arrested Development" every single day!
Katie: Where can we next see you? It looks like you have quite a few projects in the pipeline on your IMDB page?
Nick: I think next up for me is "The Starving Games," out this Spring. In a pretty hilarious role!
Katie: "The Starving Games" is billed as spoofing pretty much every current franchise, including, "The Hunger Games," "The Avengers," "Sherlock Holmes," and the Harry Potter saga. We'll be on the lookout for that. Thanks for taking the time to talk to us.
Nick: Thank you so much for your questions!
Visit Nick's IMDb page for more info about his upcoming projects: http://www.imdb.com/name/nm0327063/?ref_=fn_al_nm_1
Follow Nick on Facebook: https://www.facebook.com/pages/Nick-Gomez-Official/555723391123350?ref=ts&fref=ts, Twitter @nicksgomez, and Instagram @UncleJungleJim
By Katie Moeller