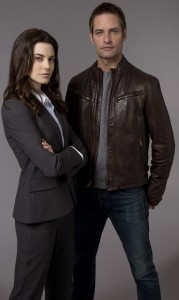 From creator John Dixon and developer Michael Seitzman, comes a new thrilling show about a team of United States federal agents, with an advantage to their trade. Under the United States Cyber Command's program entitled Clockwork, Gabriel Black (portrayed by Josh Holloway), is implanted with a chip into his brain, that gives him access to the intelligence grid and allows his brain to access visual Intel during missions.
Director of the United States Cyber Command (USCYBERCOM) Lillian Strand (Marg Helgenberger), sees Gabriel as a computer, rather than a human being and assigns an agent from the United States Secret Service to protect him and the microchip within his brain, to prevent them from falling into enemy hands. Riley Neal (Meghan Ory), the USSS agent assigned to protect Gabriel, begins to see him as a person, as well, during their missions together and is willing to take a bullet for him.
The CBS show is set to premiere on February 24, 2014 and is based on the novel Phoenix Island by Dixon. Be sure to check out the first look trailer for Intelligence below.