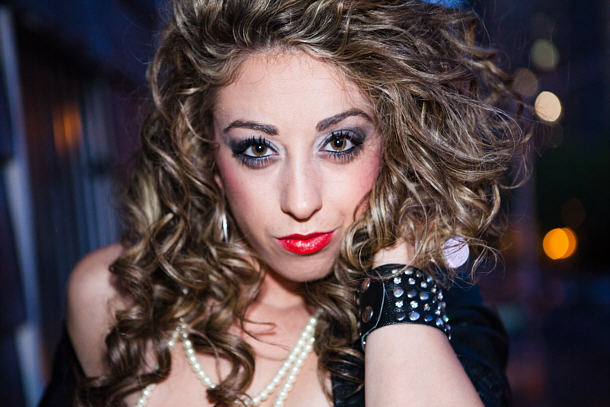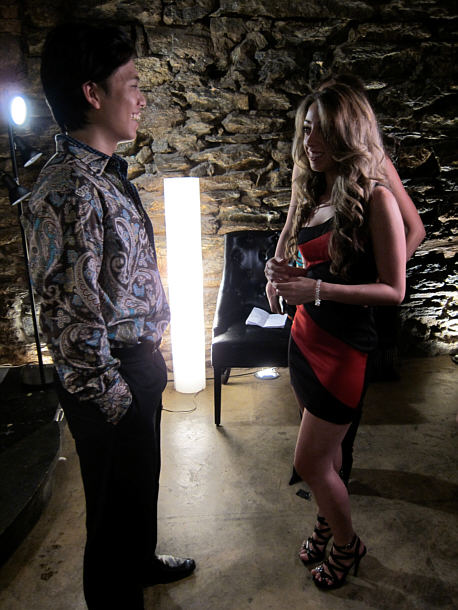 "Hey, where's your work? What's your game? I know your business, but I don't know your name."
You can almost hear the guitar strumming to the popular 80s Roxette hit in the background, as Samantha Tuffarelli talks about her passion in life.
"It's a really tough business, and only the strong survive," Tuffarelli said. "I have no choice, I have to survive.
There's nothing else I want to do.
"And, I know I have what it takes."
Don't be fooled by her mere 5-foot-3 height, her beautiful demeanor or her incredible charm, this girl is – in every sense of the word – dangerous. She is dangerously talented, even if the masses haven't found out … yet.
Chances are they will soon. She is catching the attention of various New York casting directors and even popular New York fillmmaker and award-winning director/producer Sam Borowski.
"Samantha submitted to a monologue contest I sponsored on www.ForTalent.com and I was blown away by her performance," Borowski told Movie Vine. "I was equally blown away by the essay she submitted, and by her passion for craft and the industry.
"She is the perfect example of what happens when preparation meets opportunity. She not only won the prize, she became my top student, and now I have cast her in two projects. She always understood that each monthly workshop was another chance to impress me, and with each new performance she gives, I am equally blown away."
"I still can't believe I won," said Tuffarelli in reference to Borowski's ' WILL YOU BE MY NEXT GREAT SUCCESS STORY ' monologue contest. "And, so much has happened since, that it set my career in motion."
One of the movies Borowski cast her in, "A PLACE FOR HEROES," shoots this summer in Iowa.  Directed by Scott Thompson and produced by Borowski, Tuffarelli will play the major supporting role of "Nola," the best friend of the young lead.  Like Tuffarelli Nola, is a tough chick.
"It's OK, you can call me a chick," Tuffarelli says flashing a sinister smile. "Funny thing about Nola is that she's sort of a tough comedy relief. That's kind of an oxymoron, because usually a comedy relief is sort of a clown. But, she just tells it like it is, and is a great master of sarcasm … kind of like me."
Tuffarelli is actually part charm and part sarcasm. Perhaps that's why Executive Director Thomas Santorelli selected her to be a presenter at the 28th Long Island Film Festival Awards, an honor made even more prestigious by the fact that he chose her to give the "Breakout Performance Award" (given to NIGHT CLUB's Bryan Williams). Apparently, Santorelli wanted a rising young Indie star to present this particular award. Enter Tuffarelli
"We wanted to choose a younger actor to present that award, in keeping with the spirit of it," said Executive Director Thomas Santorelli. "And, Tuffarelli appears to be a rising star."
And, Tuffarelli is a rising star … a dangerous one, at that.
"I'm not really dangerous," smiles Tuffarelli, trying to hide all that toughness behind her piercing eyes. "Although my nickname is Tuff."
And, with good reason. In the television pilot, "SUPERFANS," she portrays Bridgette, insecure and let's face it, a perfect representation of the B-word, a character very unlike herself. However, Bridgette is also tough when she has to be.
And, in, "NO, YOU AIN'T ALRIGHT," she plays a sarcastic waitress who extols a famous Robert DeNiro line from GOODFELLA'S. Who knows? In the future, you might even see Tuffarelli in a role whacking some mobster in a Men's room, a female homage to THE GODFATHER.
"Hey, whatever, I'm up for it," Tuffarelli joked. "That's what being an actor is all about."
If her early roles and work ethic, as well as the recent attention she has garnered, is any indication, this girl has what it takes.
Uh-oh, there's that 1980s guitar again.
"Hold on tight, you know she's a little bit dangerous. She's got what it takes to make ends meet. The eyes of a lover that hit like heat. You know she's a little bit dangerous."