Lord of the Rings fan site TheOneRing.net has premiered what I presume is the final dwarf from Peter Jackson's The Hobbit, and it's none other than Thorin Oakenshield.
As a young Dwarf prince, Thorin witnessed the destruction and terror wrought when a great fire-breathing Dragon attacked the Dwarf Kingdom of Erebor. After slaughtering many of Thorin's kin, the great serpent, Smaug, entered The Lonely Mountain and took possession of its vast store of gold and jewels. No-one came to the aid of the surviving Dwarves, and thus, a once proud and noble race was forced into exile. Through long years of hardship, Thorin grew to be a strong and fearless fighter and revered leader. In his heart a fierce desire grew; a desire to reclaim his homeland and destroy the beast that had brought such misery upon his people. So when fate offers him an unusual ally, he seizes the chance for revenge.
I'm sure everyone is giving this film their all, and I'm excited to see it, but these dwarves continue to make me chuckle. First we got the Klingon-esque Oin and Gloin, then the dreamy Fili and Kili, now their leader bears a strong resemblance to John Travolta from Battlefield: Earth. I haven't read The Hobbit in years, but since they're padding out the simple quest to span two feature films, I'm wondering if we'll learn about these dwarves' different cultures, and how they look so different yet still fight for the same team.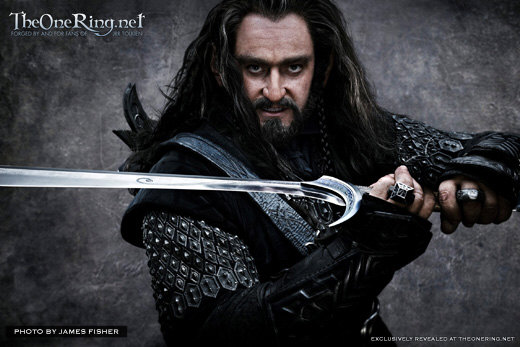 "The Hobbit: An Unexpected Journey" opens on December 14th, 2012, and the saga concludes with "The Hobbit: There and Back Again" on December 13th, 2013