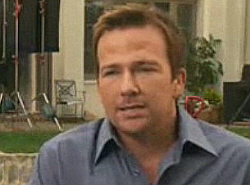 It's being reported that Green Apple Entertainment will release the crime mystery TV film Citizen Jane starring Ally Sheedy (The Breakfast Club) and ever fantastic, down to earth Sean Patrick Flanery (SAW 7, Deadly Impact) on DVD on August 23!
Citizen Jane synopsis from IMDB: Based on a true story that dominated the headlines in the 1990s and the subsequent bestselling book by James Dalessandro, the movie Jane tells the tale of Jane Alexander (Sheedy), who lives an enviable life in San Francisco with the handsome and slyly charismatic Tom O'Donnell (Flanery). But Jane's idyllic life is shattered when her beloved, elderly aunt is brutally murdered. Embarking on an epic, 13-year journey to track down the killer, Jane stuns authorities with her shrewdness and intelligence and ultimately brings her aunt's killer to justice. In the process, she initiates starts up the activist group Citizens Against Homicide, which supports families looking for justice.
This movie was first broadcast on the Hallmark Channel in 2009. I read that it doesn't contain any bonus features, which is unfortunate, but fans will still want it. They've been waiting for a while and I can speak for them truthfully. The fans love to watch Sean Patrick Flanery in films…and this one being that it's based on a true story is going to be sought after. I hope I get to watch it for the first time soon!