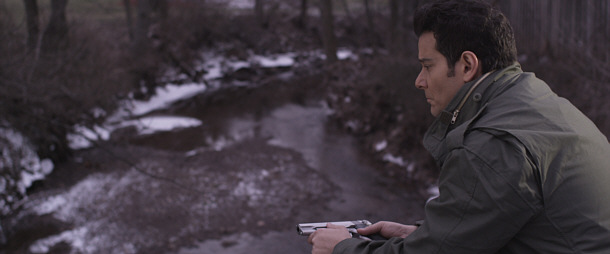 A man with many talents and the founder of the Golden Door International Film Festival, Bill Sorvino has been a contributor in many great projects across different mediums and is expected to nail his role in the upcoming "Maniac". I had the chance to share a few words with him.
Kale: What first brought your attention to the film industry?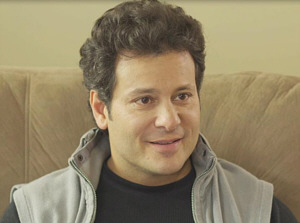 Bill: Well that's pretty easy…my uncle Paul Sorvino!!!
Kale: Who have been a few of your role models and idols in the industry?
Bill: Hmm, Once again I must say my Uncle is top on that list as he definitely gave me my first perspective on the craft of acting and how important proper training and technique is. Beyond him, I am a big fan of old time actors of the modern era like Pacino, Deniro or even Robert Duvall. I hate to go down the Godfather list but they all did a whole lot of amazing work beyond Godfather. I mean the powerful performances they have all given in so many different films is just beyond comprehension. Those are the guys who engineered a new approach to acting following up on Brando's trailblazing efforts of course. Take Dog Day Afternoon for example, can you imagine a more spellbinding performance than that given by Pacino?
Kale: What type of film roles do you enjoy portraying?
Bill: Well, its funny because in real life I'm a big jokester and in fact people often ask me if I do a lot of comedy acting, but so far my strength in acting lies in roles where the character is a very strong viewpoint whether right or wrong and has a very concrete objective once again right or wrong. I have played the bad guy as I did in the Sam Borowski produced film "A Place for Heroes" or in the play "For Pete's Sake" and I've played the tortured good guy in films like "Maniac" which Sam Borowski actually directed or in the film which I starred opposite Domenica Scorsese, (Marty's daughter) "In the End" which my cousin Michael Sorvino directed and won best director at the Beverly Hills Film, TV, New Media Festival. Now, I did do a somewhat comedic role in a play recently, but it was rather acerbic and somewhat cruel in nature so I don't know if it really counts as comedy due to the deeply poignant nature of the role and play in general.
Kale: If you could play any role, what would it be?
Bill: From an existing movie? Indiana Jones!! I wish I could say something more artsy or chic but I just always loved Raiders of the Lost Ark and Harrison Ford's portrayal of that role and I wold love to be that adventurer.
Kale:  Did you always want to be an actor?
Bill: Actually I was always a musician, and as much as I liked performing as a singer/songwriter, the thought of acting never crossed my mind until I got fed up with the music industry. You see, I was signed to an indie record label and was almost signed several times to major record labels but the mill you go through getting to that point and the mistreatment you suffer in the process really got the better of me. It wasn't until I had spent a very long weekend with my uncle Paul and cousin Mira Sorvino and her husband Chris Backus. My uncle was giving Chris some informal acting lessons in regards to a very important audition he had coming up and it simply sparked my desire at that moment. I haven't looked back since!!
Kale: What is it like working on a set?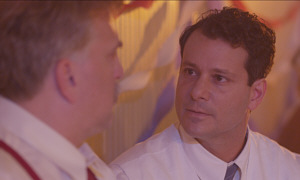 Bill: Amazing, exhausting, exhilarating, devastating, gratifying, grueling…get the picture? But truthfully, there is no place I'd rather be. Working on a film with a group of professionals doing the funnest job in the world is as good as it gets. I can't get enough of being around hard working fellow craftsmen. From cast to crew to every person involved from the top down. It's pure love of what you're doing and it reads all over a good set.
Kale:  What is your favorite experience from the films you've worked on?
Bill: Hmm…that's a tough question because I have had so many great experiences but if I had to pick one it would be on the set of the film I just completed "Maniac". Sam gave me the tools, the environment, the script, the locations, the crew, the producers the fellow actors…to be able to do my best work!
Kale: Are you interested in any other aspects of film, producing, directing, writing?
Bill: Nope
Kale: What do you do to get into character before the camera rolls?
Bill: Preparation is the key. In the weeks leading up to a shoot I go for long runs so I can meditate on where the character lives in me. I try to find triggers that I can use on set and I try to experience many of the emotions that the character will live though in order to fully realize and flesh out the role. Once I feel I have created my character space I leave it alone for a while and then I go back to it several days later and fine tune it. Once am on set, I will then go into that space I created and use the triggers I found to prepare before each scene. It's essentially Meisner technique slightly tweaked. I can't imagine anyone acting without a system in place.
Kale:  Have you ever been injured on a set?
Bill: No, but I was a little beat up a few times! Thankfully nothing beyond a bruise or two and some aches and pains.
Kale:  What projects do you have coming up?
Bill: Right now I have a few films lined up. Actually several with Sam Borowski who is working on a whole bunch of projects and has graciously offered me major roles in many of them. Also, I have a civil war era project which I will play the famous General Phil Sheridan. It shoots in Alabama this summer and will be DP'ed by Bill Schweikert who also DP'ed "Maniac" and "A Place For Heroes" as well as Sam Borowski's feature film "Night Club" which I and my uncle had a fun scene together in. He's a great guy, and a terrific cinematographer. I love working with him he's a real pro.
Kale:  What can you tell us about Maniac?
Bill: Oh man, lots!…First off..a big huge thanks to Sam Borowski for casting me in the role of the Maniac!. This was a dream part. Not only is the script absolutely riveting and poignant, and the role is so darn meaty but having Sam directing it was a dream. He's an actor's director and runs a set as it should be. We just had so many spectacular performances I enjoyed working with and watching so many great actors. Let me talk about a few, firstly we had David Harris who starred as Cochise in "The Warriors" an absolutely iconic movie. I enjoyed working with him so much I can't tell you how wonderful an actor and a man he is. Then we had Joey D'Onofrio of "Goodfellas" and "A Bronx Tale" fame. Talk about a pro. I mean this guy came in ready to hit some homers and what a terrific guy he is! I also have to talk about my very good friend Dominik Tiefenthaler who we asked to fill a role literally within days due to a conflict with the prior actor in that role. I know Dominik for some time now and I suggested him because he's a real pro, but man oh man was he ungodly good. He kicked the crap out of a two or three scene role. But that sums up the the whole aura of "Maniac' one good thing after another happened on this project. I truly think that this film has a very legitimate chance at making a run at Oscar qualification for best live action short.
Kale:  Your character is said to be intense and notable, what can you tell us about him?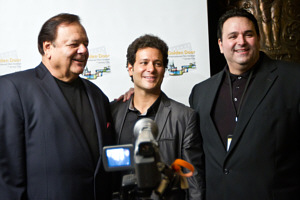 Bill: Well, without giving too much away, the Maniac is really only a maniac because of a series of circumstances that push him over the edge. He's a tortured somewhat lost soul. But he has a purpose and in the many shades of gray of his actions is where the heart of the story lies. There is definitely an homage to Taxi Driver that is played here but it is in no way a copy of Deniro's character or the film itself. I would say the there is some inspiration there and we take it to another place entirely.
Kale:  What is one thing you'd like to teach younger actors about film?
Bill: Learn your craft above all else. Learn from other actors once you are fortunate enough to work on a film. I am always amazed by much I learn from watching other great actors work. Be humble. Never think you have it or you'll lose it. Always be grateful for the people who give you opportunities – Just as Sam has given me opportunities in NIGHT CLUB, POLLINATION * , A PLACE FOR HEROES and now MANIAC and that has led to me being suggested for UNION. Be grateful to the people backing you, and watch as those opportunities multiply
Kale:  Looking back on your career, what have been your best moments?
Bill: My career is fairly young but I do have a few moments that are worth discussing. First and foremost, when my uncle and greatest mentor Paul Sorvino called me right after seeing me in the film I mentioned earlier "in The End" from Beverly Hills Film Festival (unfortunately I couldn't attend the screening) and proceeded to wax eloquently about how great my work was! Talk about a gratifying experience. Another wonderful moment was at my audition for Maniac, after I delivered the character's pivotal monologue Sam's reaction was to immediately jump up, clap and say "You want the part?? It's yours!" That felt so good and I know that I won the part over some tremendously talented actors which made me absolutely terrified to read! Lastly, also on Maniac just a few nights ago, involves David Harris. After we did our scene together (which included that same monologue) and wrapped for the night, David quite unexpectedly comes over to me and begins to complement my acting and is literally thumping my chest with his fist as he is telling me I am going to go far in this industry. While he was talking I am thinking "ok my life is complete" what a wonderfully giving actor and human being that man is what a wonderful experience.
Thank you! Visit Bill Sorvino at his official website.
Interview by Kale Slade
(*note: The header image is of Bill Sorvino (playing "The Man") during an intense moment in " MANIAC. ")