I love it when a movie captures my attention. This was the case recently with the feature film Armistice (previously titled Warhouse). I had connected with talented writer/director Luke Massey on Twitter's social network. I noticed he had worked on the film and had started to promote it at festivals and online. I went to the official website and found that it only showcased the trailer, an email sign up, some links to social network and film credits. I watched the film's trailer and was immediately enthralled. It intrigued me, especially since this film's main actor is Joseph Morgan, who plays the charismatic, devilish character of Klaus on one of my favorite television shows, The Vampire Diaries.
There wasn't a synopsis posted on the website, so I didn't know the details of the storyline. This actually turned out to be a good thing and allowed for an element of surprise! Many film companies these days seem to put out trailers that reveal too much, but the Armistice trailer has an alluring element that keeps key details concealed. Without revealing too much, the trailer presents actor Matt Ryan narrating bits of the story in a smooth, somber voice and actor Joseph Morgan bravely struggling through a tormented predicament. I couldn't wait to view the film in its entirety.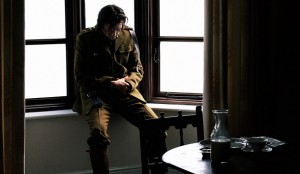 The first thing I noticed when watching Armistice was the high quality of the cinematography, acting performances and the music. The next thing I noticed was the slow, methodical story telling by writer/director Luke Massey and writer/producer Benjamin Read, which kept me entranced until the end. It was clear to me that a lot of care and personal commitment went into the making of this film and it obviously meant a lot to all involved.
Armistice is an unforgettable, emotion ridden psychological thriller that stays etched in your mind. Joseph Morgan, as A.J. Budd, shows the full caliber of his talent through a range of emotions as he portrays his character's journey through the realization of his circumstances. Matt Ryan's, as Edward Sterling, demonstrates an excellent performance of a tortured, hopeless soul. Writer/director Luke Massey's cinematography and editing are creative. He had a lot to deal with in regards to sensitive lighting situations and handled it quite well. Jonathan Fletcher's music scoring was very appropriate and effectively employed for the style of this film. Although the costumes and makeup matched that of an independent film's budget, that weakness did not overshadow the richness of the story. I watched this film without any high expectations and ended up being pleasantly surprised. I was compelled to watch it again!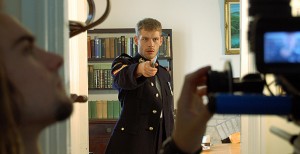 I hope my spoiler-light review has sparked your interest enough to check out Armistice. The trailer is available now, but the film is not yet released. You can find the official website at http://www.warhousethemovie.com (sign up for their newsletter for updates). You can follow Armistice on Twitter @ArmisticeMovie. In addition, you may also follow the writer/director @LukeMassey , actor @JosephMorgan , writer/producer Benjamin Read @Bookpirate. There's also a Facebook page at:
https://www.facebook.com/ArmisticeFilm
— You can follow me on Twitter @WendyShepherd , @MovieVine , @StudioMatrix and @OfficiallyPlug