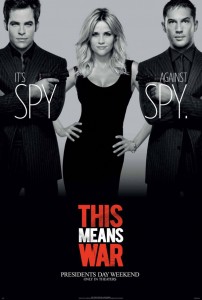 This Means War is an addictive comedy film starring veteran Star Trek actor, Chris Pine (James T. Kirk in Star Trek) and Tom Hardy (Jean-Luc Picard clone in Star Trek Nemesis) as two CIA agents who are competing for the love of one woman, portrayed here by Reese Witherspoon. The film is directed by McG and is quite a comedic mix of action and romance.
The film has a catchy blend of humor and action that quickens the pace as the minutes pass by. Chris Pine and Tom Hardy are hilarious here, stealing the film in every scene they are in. Reese Witherspoon portrays a basic love interest seen in past romantic comedies and helps keep the story going.
FDR and Tuck (Pine and Hardy) are two best friends out to earn the love of one woman (Witherspoon) and are soon at war with each other, albeit making a "gentleman's agreement" to not let her come between their friendship. The soundtrack and score help to entertain us throughout each scene and give more joy to each scene. The film was never boring to watch, in my mind and concluded in a big way.
Overall, I recommend the film to couples and folks looking for love and the film brings something forth for everyone in the audience. Seeing it twice, I am certain that this is to be one of my favorites of 2012 and I urge you to give it a chance.
OVERALL: 10/10 Review by Kale Slade