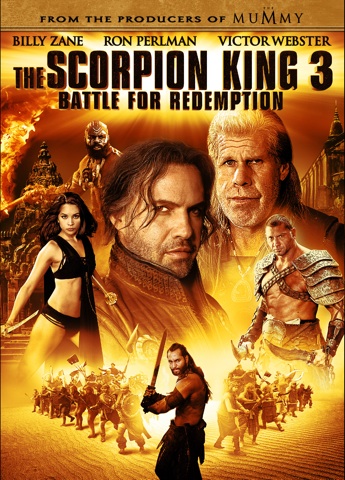 Universal Studios Home Entertainment is releasing The Scorpion King 3: Battle For Redemption on Blu-Ray, DVD and digital download on January 17, 2012.
This movie stars Victor Webster, Ron Perlman, Billy Zane, Kimbo Slice, Bostin Christopher, Dave Bautista, Temeura Morrison, Temeura Morrison Temeura Morrison Selina Lo and Krystal Vee. Here are the details:
Since his triumphant rise to power in the original blockbuster The Scorpion King, Mathayus' kingdom has fallen and he's lost his queen to plague. Now an assassin for hire, he must defend a kingdom from an evil tyrant and his ghost warriors for the chance to regain the power and glory he once knew. Starring Ron Perlman (Hellboy) and Billy Zane (Titanic), and featuring 6-time WWE champion Dave Bautista and UFC star Kimbo Slice, The Scorpion King 3: Battle for Redemption takes The Mummy phenomenon to an all-new level of epic action and non-stop adventure!
Here's the press info:
A once-powerful warrior king takes on a new life as an assassin for hire in the DVD Original ™ The Scorpion King 3: Battle for Redemption, available on Blu-ray™, DVD and Digital Download January 17, 2012. The latest chapter in Universal's enormously popular The Mummy franchise, The Scorpion King 3: Battle for Redemption brings the heroic, larger-than-life saga of the dethroned king Mathayus to face some of his fiercest demons and most vicious rivals—both real and supernatural—ever.

In a dangerous, action-packed battle to regain his glory and reclaim the empire, Mathayus's journey is steeped in intrigue, sorcery and romance, fueling this new film that spawned from the billion-dollar The Mummy film franchise. The Scorpion King 3: Battle for Redemption tops the series once again, featuring even more of the heart-stopping action, mind-bending stunts and astonishing plot twists that have earned the series millions of fans the world over. The film's spectacular fight scenes, choreographed by renowned stunt experts Kawee "Seng" Sirikanerut (Ongbok, Lara Croft Tomb Raider: Cradle of Civilization) and Supoj "Jimmy" Khaowwong (Batman Begins), are showcased within enchanting ancient palaces, against a backdrop of breathtaking desert vistas.

The Scorpion King 3: Battle for Redemption stars Golden Globe® winner Ron Perlman ("Sons of Anarchy," Hellboy II: The Golden Army) as Horus, the powerful King of Egypt and Billy Zane (The Roommate, Titanic) as the villainous Talus. Directed by Roel Reiné, the film also stars Victor Webster ("Castle," Surrogates) as Mathayus and UFC star Kimbo Slice (Locked Down), Bostin Christopher (Unbreakable); six-time WWE World Champion Dave Bautista (House of the Rising Sun), and Temeura Morrison (Green Lantern, Stars Wars: Episode 3 — Revenge of the Sith), Selina Lo (Shanghai) and Krystal Vee (Streetfighter: The Legend of Chin-Li).

With lavish production values including an army of warrior elephants and astounding battle sequences featuring a myriad of martial arts and swordfight sequences, The Scorpion King 3: Battle for Redemption is an ambitious and spectacular DVD Original™ release from Universal 1440 Entertainment, a production division of Universal Studios Home Entertainment.

BLU-RAYTM and DVD BONUS FEATURES:

· DELETED SCENES MONTAGE: Set to the film's epic score, this montage of deleted shots provides a pictorial look at the production

· SWORDS AND SCORPIONS: A MAKING OF: Viewers are given an exclusive behind-the-scenes look at how this epic action film was brought to life, filled with cast and crew interviews.

· PREPARING FOR BATTLE: Get up close and personal with undefeated black belt champion Victor Webster as he transforms himself into the perfect action hero

· FEATURE COMMENTARY WITH DIRECTOR ROEL REIN?

· DELETED/EXTENDED SCENES

BLU-RAYTM Combo pack Exclusive BONUS FEATURES:

· BD-LIVE™: Access the BD-Live™ Center through your Internet-connected player to watch the latest trailers and more!

· pocket BLU™ app: The groundbreaking pocket BLU™ app uses iPad®, iPhone®, iPod® touch, Android™, PC and Mac® to work seamlessly with a network-connected Blu-ray™ player. Plus iPad® and Android™ tablet owners can enjoy a new, enhanced edition of pocket BLU™ made especially to take advantage of the tablets' larger screen and high resolution display. Consumers will be able to browse through a library of Blu-ray™ content and watch entertaining extras on-the-go in a way that's bigger and better than ever before. pocket BLU™ offers advanced features such as:

o ADVANCED REMOTE CONTROL: A sleek, elegant new way to operate your Blu-ray™ player. Users can navigate through menus, playback and BD-Live™ functions with ease.

o VIDEO TIMELINE: Users can easily bring up the video timeline, allowing them to instantly access any point in the film.

o MOBILE-TO-GO: Users can unlock a selection of bonus content with their Blu-ray™ discs to save to their device or to stream from anywhere there is a Wi-Fi network, enabling them to enjoy content on the go, anytime, anywhere.

o BROWSE TITLES: Users will have access to a complete list of pocket BLU™-enabled titles available and coming to Blu-ray™ Hi-Def. They can view free previews and see what additional content is available to unlock on their device.

o KEYBOARD: Entering data is fast and easy with your device's intuitive keyboard.

· DIGITAL COPY: In addition to redeeming a Digital Copy of the movie through the pocket BLU™ app, Viewers can also download a digital version of the full-length movie from participating digital retailers to enjoy on a choice of popular electronic and portable devices.