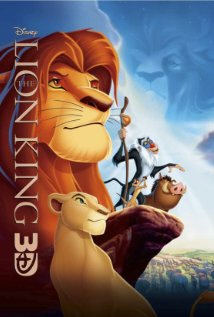 The numbers from Friday's box office receipts are in, and the big news is that the re-issue of The Lion King, a seventeen year old movie, topped all comers and hold overs. Disney is surely proud of Simba and company.
With families turning out in droves to attend the classic film with a 3D coating Disney added $8.8 million to their bank accounts. The Lion King 3D is estimated to bring in $25 million this weekend at the very least, and $30 million if the traditional Saturday bump works out for them. That's close to a record September opening, shy of 2002's Sweet Home Alabama's take of $35 million.
Many were projecting a $13 million take at best for the re-issue on Thursday, underestimating the appeal of a family classic beloved by many. Even Disney had it pegged at a soft number; the reissue was mainly meant to draw publicity for the October 2nd BluRay release of the film.
Despite strong critical notices Drive, the Ryan Gosling picture directed by Nicolas Winding Refn, only drew in $4 million on Friday, leading to a probably $11 million weekend. Buzz for the film has been building since director Refn won the Best Director statue at the Cannes Film Festival in May, but cinema exit scores are saying audiences just don't quite get the bizarre blend of drama, stunts, and pouting Gosling.
The weekend's other openers Straw Dogs and I Don't Know How She Does It bombed completely, earning just $1.9 and 1.6 million respectively. Both are projected to pull in between $5 million and $6 million for the weekend.
Here's The Top Five For 9/16/11 to 9/18/11:
1: The Lion King 3D $30M
2: Contagion $13M/$44M Domestic Total
3: Drive $11M
4: Straw Dogs $6M
5: The Help $5.5M/$150M Domestic Total