Writer/Director Paul Solet has an organic vision in film that is a rare find in today's Hollywood. Every set, every prop, every ounce of light seem to be living and breathing in the background of his films. He entices his audience through his stories, and then when you are least expecting it he somehow manages to brand an image into your subconscious. Years later I still can't walk through a meat department at the grocery store without thinking of his first feature Grace. It is more than just an image resurfacing, you can actually feel the moment as you recall the scene. Somehow he must have us all conditioned like Pavlov's dogs. Beyond film, Paul is also an accomplished photographer. He captures the beauty of life in the shadows, and finds an empathetic heart within the inner city. I love looking at the world through Paul's lens (www.PaulSolet.com). However, right now it is all about Halloween as Paul, and The October Society, entertain us with the much anticipated film Tales of Halloween. We caught up with Paul to talk about the anthology, filmmaking, horror and everything that he loves about Halloween.
MV: Welcome to Movie Vine, Paul! To begin let's talk about Tales of Halloween. How did you become involved with this anthology?
Paul: Thanks Jan!  I got involved with Tales through Axelle and Mike and Neil.  We're all nuts for Halloween — hence, "The October Society" — so when they told me they wanted to do a Halloween anthology with all our friends I said, hell yes!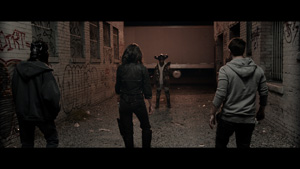 MV: Would you mind sharing a little bit about the film as a whole and how it all ties together in ten stories?
Paul: The stories all take place in the same town and on the same night.  There are a bunch of tie-ins — characters from one segment appearing in others, along with a radio broadcast from Adrienne Barbeau.
MV: You had the freedom to approach this without any constraints in story or genre so where did you start with ideas?
Paul: When Axelle said I could do anything I wanted as long as it was Halloween-themed, I realized it was a great chance for me to dig into some of my cinematic fetishes that might be a little harder to play with as explicitly in feature.  I'm a huge spaghetti western fan and have been obsessed with Walter Hill's THE WARRIORS since I was a little boy.  Add a BMX chase, a little black magic, and one very pissed off creature, and you've got THE WEAK AND THE WICKED!
MV: I love the BMX chase! Having just a couple days to shoot you had to put a lot of faith into your cast and crew. What were some of the challenges in having to rely so heavily on others when there is zero room for error?
Paul: You're always relying on your cast and crew — I really do believe it's a totally collaborative medium.  I think even when you're making a bigger movie the resources are always going to be stretched because you're trying to do the most you can creatively for your audience with the least money possible for your financiers. This piece is really stylized — the blocking is pretty precise — so walking the line between maintaining that spaghetti style and getting the story and the exposition down was the line we were walking. Luckily, my team and my cast are so great that we really were able to get pretty much everything in one-three takes.  Which is great because that's all the time we had.  When you have people as talented as Zoran Popovic and Tada Chae and a cast as unbelievable as this, all you need to do is prepare well and communicate clearly and keep an eye on the clock, and you can do pretty much anything.  Knowing you have a composer like Austin Wintory and editor like Josh Ethier watching your back in post-production seals the deal.
MV: Without giving too much away, what can you tell our readers about your tale "The Weak and the Wicked"?
Paul: It's kind of a haunted modern day spaghetti-style punk rock revenge story that takes place way on the wrong side of the tracks, where a gang of bandits, led by an infamous beauty (Dark Summer's Grace Phipps) and her two outlaw companions (Looper's Noah Segan and Booboo Stewart from Twilight), roam the streets on BMXs. As they're menacing their latest victim a mysterious Stranger shows up (Keir Gilchrist of Dark Summer and It Follows).  And as the piece goes on we realize some very sinister things happened in the past and this stranger may not be a stranger at all….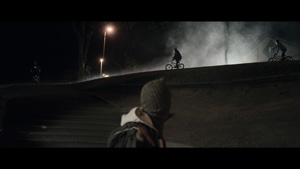 MV: That is the perfect way to describe it! When filming on location it can be difficult to control the environment around you. How did you manage the unexpected obstacles on "the wrong side of the tracks"?
Paul: I brought on my friend Tada Chae to produce the segment.  He is a locations mastermind (they literally call him the Karate Kid in the business) and he just knows exactly how to manage logistics.  We shot in a pretty shitty part of town so there are the inevitable run-ins but when you have people like Tada on set who know how to operate both in the business and on the streets you just do your thing and keep on getting your shots and let the pros hold it down.
MV: Tales of Halloween is a collaboration by eleven fan-favorite genre directors. Even though you are all friends, I'm sure that you rarely have the opportunity to share the same work space let alone the same screen. Were you able to interact with each other while filming?
Paul: Yes!  And that was really one of the coolest things for me about the whole thing.  Directors just don't get to watch each other work that often.  We talk shop and share stories, but actually getting to watch people you have known for years do their thing is just so cool.  Getting to see the types of preparation people did, the things they prioritize, the pace at which they move — just so much fun to watch that stuff.  And having all of your friends there hanging out and rooting for each other, it just made it like some kind of awesome horror filmmaking summer-camp!
MV: If you had the chance to take one of the tales and extend it into a feature which one would you choose?
Paul: If the reviews of the movie confirm anything it's that there's really something for everyone here, so that's a tough call, but for my money, as a feature, I think Dave Parker's "Sweet Tooth" is pitch perfect.  He absolutely crushed it. I'd love to see that become a feature.  Dave is very humble and self-effacing and he won't take credit for it, so I'm gonna just say it for him: that piece is astonishingly great, and just what an anthology like this needs to kick it off.  The WEAK AND THE WICKED is a little more obscure and it's mostly the die-hard movie freaks that are going to get the references, but "Sweet Tooth" has universal, old-school horror appeal.  If I was in the business of financing horror movies, Parker would already be hired.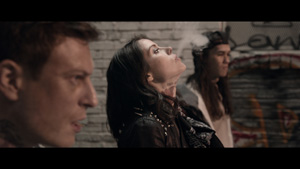 MV: Good choice! I can see "Sweet Tooth" as a feature. You worked with a young cast on both "The Weak and the Wicked" and your film from earlier this year Dark Summer. Did you find it refreshing being around kids who still have unending energy in their passion for film?
Paul: I loved this cast — Keir and Grace are two of my very favorite actors I've ever worked with.  Noah Segan I'd admired since I saw him in Dead Girl, and Booboo Stewart is a fucking champion of the first order.  These guys are wise WAY beyond their years, and all of them have been working since they were little, so you can learn so much from them all. And the children were SO great.  Our casting director did a wonderful job matching the adult outlaws. My only regret is not finding a place for Stella Maeve and Maestro Harrell — but maybe we'll see them in the sequel!
MV: Stella and Maestro are so amazing in Dark Summer. I can see them hanging out in the land of "The Weak and the Wicked". I bet working with all of them reminded you of why you wanted to become a filmmaker in the first place. You have mentioned before that you also started out young. Did you keep any of the films you made as a kid?
Paul: Oh definitely — so much.  I can't tell you how much these guys make me smile.  Definitely kindred spirits, the lot of them.  I have a lot of the shorts, yes! I commandeered the family VHS camcorder as soon as they got it and never looked back. I was lucky enough to go to a couple art camps where I had incredible councilors who were huge inspirations to me.  At one point we remade Fritz Lang's Metrolpolis shot for shot on 8mm.  I got to ride a motorcycle as a ten year old, it was amazing.  Although I'm not sure I have that one.  I do have a slasher movie Eli Roth directed when I was his camper called SUSHI.  The campers all murder the counselors in horrible ways, including force feeding them poison ivy, and then break the fourth wall and say, "SUSHI!" while the REANIMATOR soundtrack plays.  That one is a true classic.
MV: Maybe Sushi should evolve into a feature with the kids now the camp counselors then you can have the short lead into it. What lessons did you learn making short films in the 80's and 90's that have proved invaluable to your approach to filmmaking today?
Paul: Don't forget to have fun!  We're all just playing make-believe.  It's a higher and higher stakes make-believe as time goes on, but at the end of the day we're just there to play, and as soon as I forget that I might as well hang it up.  There's also something really important about letting yourself experiment.  If you fall on your face it doesn't matter as long as you had some kind of vision and you pushed for something new.  I think that's a great thing to learn making shorts.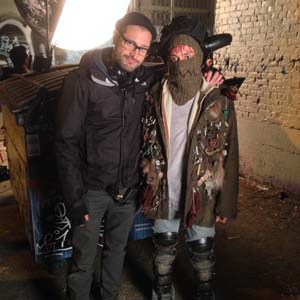 MV: What was the defining moment when you knew that you had the gift to tell stories and connect with an audience?
Paul: The gift haha I don't know Jan!  I never thought of it that way.  I think storytellers don't really have any choice but to tell stories.  Doesn't matter if you're making movies or if you're a litigator or a salesman or a photographer, there's always a narrative you're weaving and if that's a facility you have it's just sort of part of the fabric of how you communicate.  For me, I just don't feel very good when I'm not creating and telling stories of one kind or another — I just kind of end up feeling like I'm wasting my time — but when I am, I feel like I'm actually doing the thing I'm supposed to.
MV: You have a great way of exploring unique or disturbing aspects in the lives of your characters that make audiences delightfully uncomfortable. What is it like for you watching an audience react to your films for the first time?
Paul: That's a great question, and thank you!  I love to watch an audience watch something I've helped make.  There's nothing like seeing something land; watching people squirm and scream is terrific, but there's something even better about the right kind of silence — that kind where you can tell the audience is totally present and sharing the experience of the characters on screen.  It's a magical thing.  It takes so much to make a movie, so that moment is really sacred.
MV: After emotionally scaring a few audience members, like Grace's 'Fainting Three', which films have left their mark on you, or created fears that you weren't even aware of before watching?
Paul: Movies like Benny's Video and Bullhead really got under my skin.  I love monsters as much as the next horror nerd, but it's the character studies where people are behaving like monsters remain the most disturbing to me.
MV: Agreed! Now that Halloween is fast approaching what are your go-to films to watch while enjoying the left over trick-or-treat candy?
Paul: I fiercely resist standardizing my Halloween programming.  I make a distinct effort to let someone else MC every year as much as possible so I can share other people's favorites.  If I end up in the driver's seat it's going to be all Nightbreed and Lucio Fulci all night….
MV: Will you be dressing up this year and braving the monsters, or staying in to scare the trick-or-treaters?
Paul: Brave the monsters!!  Always brave the monsters!!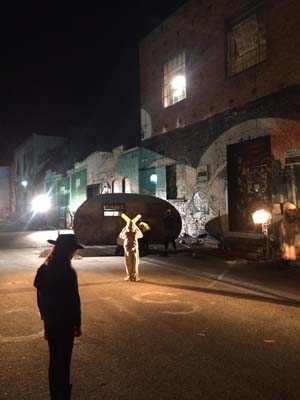 MV: What are a few of your favorite costumes that you have worn for Halloween?
Paul: My first costume was Lawrence of Arabia.  I had the dagger and everything.  My family doesn't mess around when it comes to Halloween.  My mom can sew anything so if we could dream it up she could make it.  She helped me make a pretty amazing Teenage Mutant Ninja Turtle costume way back when it was still just a comic.  No one knew what the hell I was.  "Teenage Mutant what…?"
MV: Heroes in a half shell! I imagine that Halloween was a pretty big deal for you as a kid. What did you most look forward to?
Paul: Oh yes, it was my favorite holiday, hands down.  There's something so wonderful about a whole country playing make-believe together.  I used to read werewolf stories when I was little — I wanted to be a monster so badly.  Halloween was the one night you actually could go out and make that real.
MV: Last question, it would be remiss of me if I didn't bring up everyone's favorite Halloween infomercial Jack Chop. After all the struggles of Nicolo do you still carve your own jack-o'-lanterns or leave it to the professionals?
Paul: I am all about pumpkin carving! No series of bloody kitchen accidents could deter me! Fahkin. Bahnick!!!
MV: That's awesome! Thank you for hanging out with Movie Vine, Paul! Here's hoping that The October Society continues to bring us Tales of Halloween for many years to come.
Paul: Thank you so much Jan!!
*Tales of Halloween is now available in select theaters and on VOD/iTunes. Check www.TalesofHalloweenMovie.com for more information and to rent the film (the rental on the site should work for all of our international readers as well). Be sure to follow Paul on Twitter, FaceBook and Instagram. His photography prints are available for purchase on his site www.PaulSolet.com.