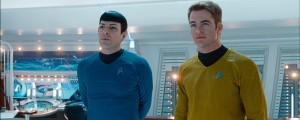 Set for a July 8, 2016 release, the thirteenth Star Trek film has been confirmed to be written by Simon Pegg (who portrayed Montgomery "Scotty" Scott in the first two alternate reality films) and Doug Jung, presumed to be joining previous writers J.D. Payne and Patrick McKay. The film will be directed by Justin Lin, who has taken over the director's chair from previous writer and director Roberto Orci, who will now be serving in a producing role.
Star Trek has seen a wide franchise legacy, with 6 television series, 12 films, video games, comics and more. It has influenced our technology and culture and has brought entertainment to millions of fans. In 2009, the series saw a new beginning when Star Trek returned to its original crew, including Captain Christopher Pike, who was in the first pilot of the original series. The film created a new parallel timeline, leaving the previous 6 series and 10 films' timeline to continue on, although there are yet to be any new films or series in that timeline.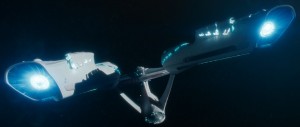 Recently revealed details for the new film have said that it will take place during the USS Enterprise's five-year ongoing mission of deep space exploration, something that the IDW comics set in the new timeline will lead up to in the coming months prior to the film's release. Aside from that, not much else is known about the story of the film, but many rumors have been released about where the film where lead.
2016 is the 50th anniversary of the original Star Trek television series, which began its run on September 8, 1966. According to this article, the film will see the return of Chris Pine as James T. Kirk, Zachary Quinto as Spock, Anton Yelchin as Pavel Chekov, Karl Urban as Leonard "Bones" McCoy, and Zoe Saldana as Nyota Uhura, with the presumed return of John Cho as Hikaru Sulu. Pegg will also be reprising his role as Scotty. Prior talks had mentioned the possibility of Benedict Cumberbatch's return as Khan Noonien Singh.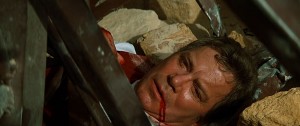 Earlier rumors had suggested the return of William Shatner and Leonard Nimoy as the future versions of the alternate reality timeline's James T. Kirk (which would require blue contact lenses for continuity with the alternate reality Kirk's eye color) and Spock, who has already appeared in both released alternate reality films, but those rumors are uncertain, especially with the new writing crew. Shatner hasn't been seen in Star Trek films or television since 1994's Star Trek Generations, when James T. Kirk died.
The 50-year-old franchise appears to be running strong, with shooting said to begin on April 15, 2015 at Vancouver Film Studios in Vancouver, British Columbia. You can follow future updates of the franchise on the official Star Trek website, Facebook and Twitter.