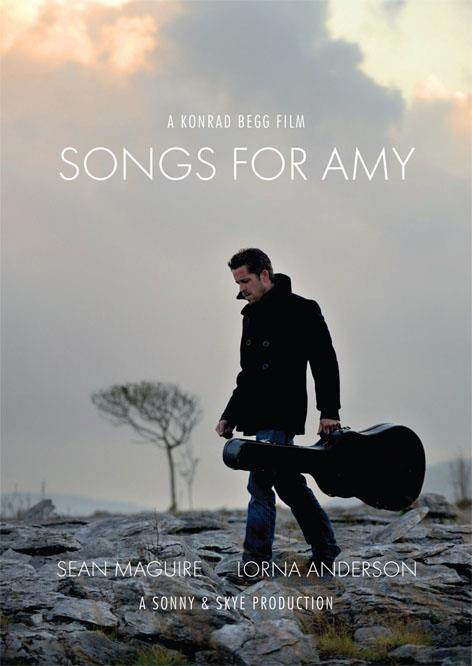 Songs for Amy is a romantic comedy and drama tale filmed in the gorgeous backdrop of Galway, Ireland backed by a lot of great music. The story follows the relationship between Sean O'Malley (Sean Maguire) and Amy (Lorna Anderson). Sean Maguire's excellent performance will have you feeling as if this is his true life story. You will experience the highs and lows of love and friendships with his portrayal of Sean O'Malley. You'll see the struggles of a young Irish musician and his journey to prove to his ex-fiancé how much he loves her through his use of music. He takes a sometimes hilarious journey with his misfit band mates Ross Mac Mahon (who stole most of the scenes he was in), Barry Ward, Gavin Mitchell & Ford Kiernan (who were also very funny) and along the way they meet up with the wild party animals Alabama 3 (aka A3; known for writing the title track 'Woke Up This Morning' for the TV hit 'The Sopranos'). Larry Love & Nick Reynolds play themselves in the film, which in itself was hilarious but the story turns around after one wild, wild, wild night of partying. The movie also delves into the manufactured life of a no talent International Pop Star JJ Fitzgerald. Kevin Ryan takes you on a journey with his great portrayal of JJ.
Excellent directing and writing credits go out to Konrad Begg (Director) &  Fiona Graham (Writer).
The great cast includes: James Cosmo, Patrick Bergin, Sean Maguire, Kevin Ryan, Ford Kiernan, Alexandra Weaver, Gavin Mitchell, Barry Ward, Lorna Anderson, and Ross Mac Mahon. In my opinion, it's a great movie and music! This is a movie that you have to see on the big screen. I now see why this film has won the following multiple movie awards:
Galway Film Festival 2012Winner Official selection St Louis Film Festival 2012
Glasgow Film Festival 2013
Newport Beach Film Festival 2013 (Jury award for outstanding achievement in film making)
The film features original music by Ultan Conlon, Jim McKee and Alabama 3.
Watch the Songs For Amy film trailer: