It's a Saturday night in Hollywood, CA at the Arclight Cinemas for the 'Hollywood Film Festival' screening of 'Songs for Amy', a romantic comedy and musical drama filmed in the gorgeous backdrop of Galway, Ireland. I'm at The Sayer Club and I was just introduced to Ross Mac Mahon by Sean Magurie; as the comedy scene stealer. Ross is a newcomer to the acting business, and yes, he was hilarious and did steal the scene in the role of Declan. This has been a whirlwind career for a very funny man. With Ultan Conlon playing in the background I have Ross' attention.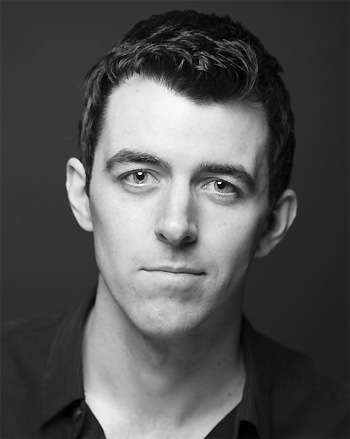 Aprilyn: Hello Ross and welcome to Movie Vine. How do you pronounce your last name?
Ross: My name is Ross Mac Mahon. I nearly missed my flight here during the Newport Beach Film Festival because the shuttle bus came to the hotel and asked for Ross McMahon, that was the name given, so the names didn't match up, plus the hotel doesn't give your name out. So the shuttle bus left. My flight was going to be in two hours and I had taken a 10 minute nap. They could have phoned my room but they didn't. (Laughter)
Aprilyn: How did you like being a part of the cast of Songs for Amy?
Ross: At first they couldn't cast Declan because some of the people coming in were either too abrasive, too rough, showed too much anger or were too much of an asshole. They were just doing way too much. Some were too nice and some were too friendly. They needed to get that balance of being intolerable and likeable. So I went to London to audition. I went in wearing something similar to what I dressed like in the film. I treated everyone with sort of a tiny bit of distaste. It was kind of a risk to do that to someone when it's my first ever film.
Aprilyn: This was your first film?
Ross: Yes, my first film!
Aprilyn: Oh my gosh, you couldn't tell this was your first film.
Ross: I figured why not try out for the audition. I live over in Ireland, so I flew over to London and did it. And I really clicked with them and they gave me the full script. I ended up doing extra scenes in the audition which was a good sign. I didn't think I got the part, but they later told me that they stopped looking for Declan after that. They did have to audition more people even though in their minds they knew they had the actor for the part. That was a lovely thing though and Fiona shared that with me.
Aprilyn: Fiona is so great!
Ross: Oh my, she really is!
Aprilyn: I just started corresponding back and forth with Fiona in the last week and when I introduced myself at the screening it was like we have been friends for years. Fiona, Konrad and I ended up walking to the after party and I realized I left my car but we talked like we've known each other for years. I can see how warm she is.
Ross: Yes she is!
Aprilyn: So do you think you will continue on with your acting?
Ross: Yeah, I hope so. I do my own comedy thing. It's mainly an internet based comedy called Crooked Humour. The comedy website is at crookedhumour.com and also on Vimeo (vimeo.com/crookedhumour) and YouTube youtube.com/crookedhumour). It's comedy sketches and stuff online and I've finished two short films this year. I'm in another short film that hasn't been released yet. I also have an agent now.
Aprilyn: So it sounds like this has all been a whirlwind for you?
Ross: Yeah, it has been! I started doing theater when I was 15 and I was performing in London, Prague, Florence, and all over Europe. Then I graduated from college, but I didn't study acting, I studied multimedia. I decided I just wanted to do acting.
Aprilyn: Well that was a great decision!
Ross: It was just over a year actually come to think of it. I had this job on Songs for Amy. It was a great first job.
Aprilyn: Just getting started, this would be a good first job!
Ross: Yeah, for just getting started, it was great. I shot one a few weeks ago called Flat Rock (Dir. Kenny Leigh) about famine and then Hatch (Dir. Keith Browett) as well, which is kind of like Night Shift, a drama comedy with a bit of romance!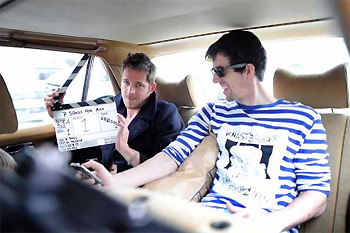 Aprilyn: I really enjoyed you in Songs for Amy because you were hilarious with your emotions and physical comedy it had me cracking up.
Ross: With very little on! I've seen the film about 10 times and I told Sean (Maguire) that I never get sick of watching it because you see something different each time. It is a film that you need to see on the big screen.
Aprilyn: Yes, you had me cracking up in the film and I agree to get the big picture of this film with the music you need to see it on the big screen.
Ross: Everyone on the set made it so easy, including Konrad Begg (the director) and Sean, the pro, who took me under his wing. Something that is very difficult, they made it so easy for me to do a good job.
Aprilyn: You handled the part with ease. Thank you very much for speaking to Movie Vine. We will be following your career.
Follow Sean on Twitter and visit his official site for updates.
Below is the trailer for Songs for Amy: