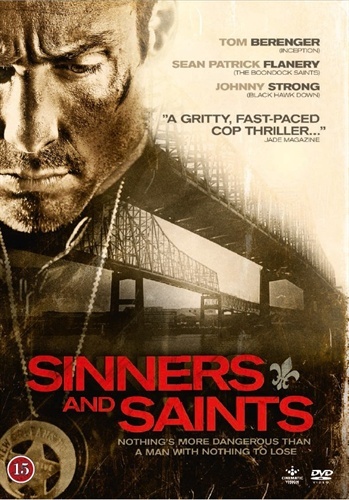 The Sinners and Saints movie stars a hard body cast of great actors including: Johnny Strong (Black Hawk Down, The Fast and the Furious), Kevin Phillips (Notorious, Pride), Costas Mandylor (Saw 3D: The Final Chapter – VII), Sean Patrick Flanery (Saw3D: The Final Chapter), legendary UFC Champion Bas Rutten (Paul Blart: Mall Cop, Here Comes the Boom), Clifford "Method Man" Smith (How High, The Fast and the Furious, Gone In Sixty Seconds, 8 Mile, The Sitter), Kim Coates (Black Hawk Down, "Sons of Anarchy"), Louis Mandylor (My Big Fat Greek Wedding), Jolene Blalock ("Star Trek: Enterprise"), and Oscar® nominee Tom Berenger(Inception, Training Day, Platoon).
Here's a bit more about Sinners and Saints: In the gritty New Orleans underbelly, beleaguered Detective Sean Riley is trying to cope with the death of his young son and his failed marriage. Facing a probable suspension from the department, Riley is teamed with a young homicide Detective, Will Ganz, to help solve a series of brutal murders that have plunged the city into a major gang war. The two quickly realize there is something much bigger and far more sinister going on than either could have ever imagined.
This movie was released on January 10th by Anchor Bay Films and is available on Blu-ray™ and DVD.
Two giveaway winners were chosen to win one copy each of the Sinners and Saints movie…
Winner of giveaway on Twitter: https://twitter.com/#!/Lokota_Rain
Winner of giveaway on Facebook: Alexandria Rae Harvath