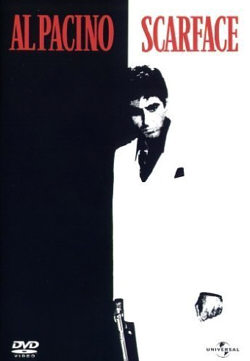 Universal and NCM Fathom have sent us a press release with details about the One Night Only event that will bring "Scarface" back to theaters.
Blasting onto the silver screen with the intensity of its original release nearly 30 years ago, the pop culture phenomenon Scarface, starring Al Pacino and directed by Brian De Palma, returns to movie theaters in a one-night Fathom event on Wednesday, August 31 at 7:30 p.m. local time. Presented by NCM Fathom and Universal Studios Home Entertainment, audiences nationwide will get the opportunity to experience one of the most influential gangster classics ever made like never before — with all-new restored high-definition picture and enhanced audio. Fans who attend this special event will also get an exclusive look at a 20-minute special feature that showcases interviews with popular filmmakers and talent expressing how this epic feature redefined the gangster genre, leaving an enduring influence on cinema.
Tickets for the screening can be bought at the 475 select theaters or at FathomEvents.com.
Scarface is a 1983 American crime drama and masterful collaboration between acclaimed director Brian DePalma and Academy Award®-winning screenwriter Oliver Stone. Produced by Martin Bregman, Academy Award® winner Al Pacino stars as Tony Montana, a Cuban immigrant who finds wealth, power and passion beyond his wildest dreams…at a price he never imagined. Scarface was nominated for three Golden Globe® Awards (including Best Actor, Best Supporting Actor and Best Original Score), and was named one of the Top 10 Gangster Films of All Time by the American Film Institute.
This limited run marks a celebration of the film's arrival on BluRay.
For a limited time only, the Scarface Special Limited Edition Blu-rayTM comes with collectible SteelBookTM packaging, 10 exclusive art cards, a digital copy of the film and a DVD of the original 1932 Scarface, making it a must-own addition to every film fan's library. And, for the ultimate collector and cigar enthusiast, an elegantly hand-crafted Scarface-themed humidor will also be made available in an exclusive, never-before-available, limited edition.
You can pr-order the BluRay here, which hits shelves September 6th,
The film returns to theaters on August 31st, 2011, and is a One Night Only Event.