Maniac, the newest short film from award-winning director Sam Borowski (director of the award-winning Night Club and Pollination *) has its premiere date. It will make its World Premiere at the FLICKERS Rhode Island International Film Festival, an Oscar-Qualifying Film Festival on Saturday, August 10 at 8:15 p.m. at the Bell Street Chapel Theatre.
Directed and produced by Borowski, and written by Nihad Shalabi, the short stars Bill Sorvino in a gripping role that strikes a resemblance to Robert De Niro in Taxi Driver.
Other stars include Joseph D'Onofrio (Goodfellas and A Bronx Tale), Maria Rusolo, Mary Dimino, David Harris (who played "Cochise," in the iconic Walter Hill film, The Warriors) and Paige Wilhide. A trailer for the film has already been released and has been received to great praise by viewers and is one short that isn't to be missed. Borowski shared a few words with me about his reaction to the positive views on the trailer.
"The response to the trailer has been amazing," Borowski said. "People have really reacted to it, and that's what we had hoped for. Not only was this made as an homage to some great Seventies films, Taxi Driver included, and shot in a very particular style, but it was made to create a dialogue."
"This film is more shades of gray than black or white. And, it's up to the viewer to form his or her own opinion about the characters and the story. And, I do think the trailer conveys that. It starts out with the great David Harris saying, 'Man you are a hee-roe! So we gather that Bill Sorvino's character – The Man – has done something heroic, yet no sooner than we hear that, do we see him killing people. It was designed to evoke a reaction from the viewer."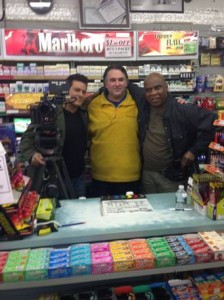 Maniac seems to be evoking a "reaction" from film-goers everywhere … even amongst its own cast.
"To me Maniac is meant to invoke thought about how you the viewer would feel and react if you were in the given circumstances that he is," said Sorvino, who plays the title maniac. " Would you break? Are these actions justified?"
"I had to delve into my deepest fears and the most broken parts of my own character from the darkest corners of my mind to create the character.  I had nightmares for weeks before and weeks after.  It was emotionally, by far, the most challenging role I have ever played.  It was also the most gratifying because I feel I gave something to the film that will allow viewers to have a contemplative experience that gives room for thought and discussion."
If you'd like to join in the "discussion," tickets for the short at the FLICKERS RIFF can be purchased here.
Long Islanders and film-goers in nearby Queens and the Bronx, can catch Maniac, when it screens at the 30th Long Island Film Festival on Saturday, September 7th in Block 3 at 7:20 p.m. at at the Hyatt Regency Long Island at Wind Watch Golf Club 1717 Motor Parkway, Hauppauge, New York 11788 (Phone 631-784-1234).
Tickets for the entire Block 3 are ONLY $10 for Adults and $6 for Seniors – LESS than the average cost of a movie ticket! And, in addition to Maniac, you get 3 other films, including a feature.
The block is expected to sell out, so use this link to purchase tickets: http://www.longislandfilmfestival.org/maniac/
The film is expected to announce their next three festival appearances soon. And, be sure to look out for the Maniac review here on Movie Vine sometime next week.