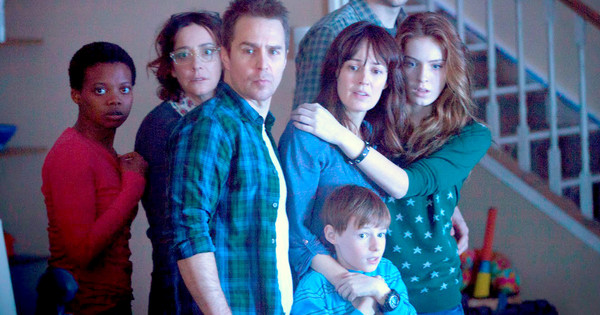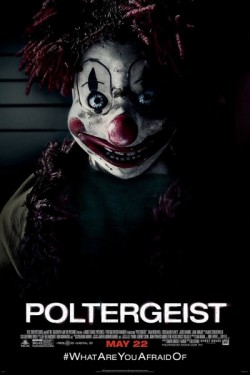 Poltergeist, the supernatural thriller, is now in theaters and it's available in 3D.  Released on May 22, 2015, the filmmaker behind it is Sam Raimi (Spiderman, Evil Dead, The Grudge), the director is Gil Kenan (Monster House) and the screenplay was written by David Lindsay-Abaire. This movie is the remake of the 1982 classic tale about a family whose suburban home is haunted by evil forces. When the terrifying apparitions escalate their attacks and hold the youngest daughter captive, the family must come together to rescue her before she disappears forever.
Poltergeist stars Sam Rock (Moon, Iron Man 2) as Eric Bowen (father), Rosemarie DeWitt (Rachel Getting Married, Mad Men) as Amy Bowen (mother), Jared Harris (Mad Men, Lincoln) as Carrigan Burke (paranormal expert), Jane Adams (Eternal Sunshine of the Spotless Mind) as Dr. Brooke Powell (Professor of paranormal psychology), with the Bowen children roles played by Saxon Sharbino (Trust Me, Touch, I Spit On Your Grave) as Kendra Bowen, Kyle Catlett (The Following) as Griffin Bowen and Kennedi Clements (Jingle All The Way 2) as Madison Bowen.
Poltergeist rolled out an interesting and interactive marketing plan with the social theme of #WhatAreYouAfraidOf. Many of the cast, crew, fellow celebrities and fans were involved in posting about the film on social media. You can still see photos and posts by the cast and retweets of fan reactions to the film at the following Twitter profiles: @GilKenan, @SaxonSharbino, @KennediClements, @Kyle_Catlett and of course the official @Poltergeist profiles.
Visit the official site to see the trailer and ticket information: click here. Featured content includes: THEY ARE NEAR (Explore the live, interactive map), THE MOST HAUNTED LOCATIONS (Discover the most haunted places int he world), and more.