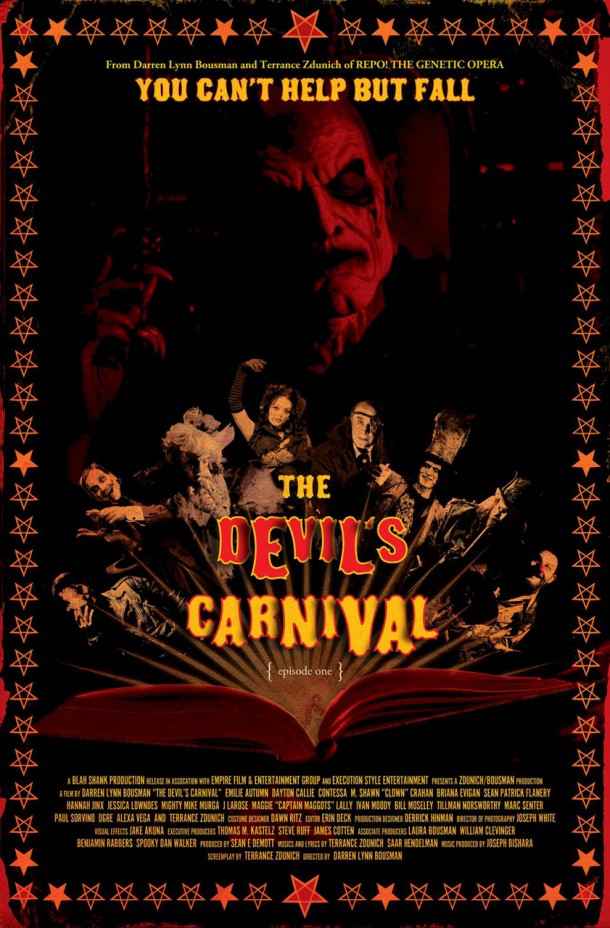 Last Sunday, April 29th, The Devil's Carnival rode into Foxborough, MA. If you had arrived at the theater half an hour before the show, you would've seen hordes of Sinners, Carnies, and Ringmasters lined up to get inside. Some were casual while others dressed in full carnival attire, gearing up for the costume contest later that evening. What else awaits at the gates of the carnival? Well it's off to Hell we go as I tell you the tales of the night!
"Grace for Sale" Firstly, the date and location of the performance seemed to be somewhat perfect. It was on a Sunday, in a theater next to a church. When I bought my ticket, the fact that it was going to be on a Sunday wasn't lost on me. But since I've never been to Foxborough, I had no idea it would be near a church. I can't express how that made me feel, but it definitely added to ambience of the night.
"Let Me Tell You a Tale for a Penny" Having never been to an event such as this (not even for Repo! The Genetic Opera), I wasn't sure what to expect. Keep track of The Devil's Carnival all you want on their Facebook, Twitter, App, and fan pages (which you should). But nothing will prepare you for the events of the night. After witnessing tonight's showing, I can say that each 'Carnival' night is definitely different.
From one 'Carnival' to another, this much, I can tell you, is the same: A performance of intrigue and danger, a costume contest, results of the 'Sing for the Devil' contest, the film, and a Q & A afterwards. Fans of Repo! The Genetic Opera are not forgotten! Prior to the film, there is a short, a behind the scenes footage of Repo! that you won't want to miss!
"Come One, Come Two, Come All, Devil's Carnival!" Audiences fall headfirst into the movie as the main characters are thrust into the hell known as 'The Devil's Carnival.' The film revolves around three people (Briana Evigan, Sean Patrick Flanery, and Jessica Lowndes). Each person is taken on a path through 'The Devil's Carnival' that leads to a tale from Aesop's Fables, as interpreted by Lucifer (Terrance Zdunich).
Darren and Terrance have done it again! They've taken a film and shown audiences its reflection. Each fable told reveals more than any back-story ever could. We see the sinners for who they truly are as they face their own downfalls, their sins, and in the most entertaining way. Performances were seamless from scene to musical scene and done so well. I'm glad all most movie experiences aren't like this! Shadows, carnies, and props were everywhere and all around. You never can tell what will come out and face you at 'The Devil's Carnival'! It's a once in a lifetime event you won't want to miss!
"Heaven's All Around" Ringmasters, Carnies, and Sinners were graced with a divine scene tonight during the Q & A. From the audience emerged a fellow fan that found himself invited on stage. Upon regaling us of his tale of love and passion (a Repo! tattoo and a baby named Shilo), he invited his girlfriend on stage and proposed! The theater filled with 'aww's, screams, and applause as she gladly accepted!
"Kiss the Girls" Though that was a tough question to follow, a few more were up to the challenge. A woman sitting in my very row up on the mezzanine asked Terrance for a hug, and he said yes! She ran down the stairs to the stage, hugged him, and quickly retreated back to her seat. His hug had the potential to spread like an infectious disease as another audience member asked to hug the woman as she returned to her seat.
As if things couldn't get wilder, another brave soul asked a question that none dared to speak aloud. Down near the front row, a woman asked our dear Lucifer for a kiss! He bashfully agreed. It was a full house of screams and 'woo's as she ran on stage for a kiss with the dark prince.
It just goes to show, you never can tell what will happen at a performance of The Devil's Carnival!
Plenty more questions were asked and answered, but what kind of Carnie would I be if I divulged all their secrets? Find a show near you to ask questions or hear some answers yourself!
"Get Your Tickets. Form a Line" The Q&A is done, but the night is far from over. After all is said and done, Darren, Terrance, and other celebrity guests that may attend sit up on stage to sign autographs. Afraid they won't get to you? Don't be! They will stay and sign autographs until everyone in line has one!
"Get ready for war."
This was just the beginning. Episode 2 could be on its way, BUT FIRST…
"I'll Continue My Rhyme for a Dime" Merchandise! At every show there is merchandise sold! They have tour t-shirts, signed CD's, tour posters, character posters, and more! Can't make the show, but want something from the carnival? No worries! Visit the Online Store. Money made from the show and/or merchandise could help fund episode 2 of The Devil's Carnival!
Ringmasters, Carnies, and Sinners keep coming! Tickets are still on sale at Eventbrite. Look out for a location near you!
SINNERS – $20.00 (gets you a ticket to the show)
CARNIES – $30.00 (ticket to the show, and a pre-signed poster)
RINGMASTERS – $40.00 (VIP Experience: ticket to the show, pre-signed poster, and meet and greet)
Written by Sandyra O'Meara