I'm pleased to say that the official Monumental film trailer has been released! I'm an associate producer and I'm so proud of the cast and crew for the work they've done so far on this independent film full of heart! It's a drama film that is sure to tug at your tear ducts. Remember this also; the film's cast and crew took a tough journey across the United States in a short amount of time to visit the National Monuments that are part of the film's story. Their journey started from Los Angeles in June of 2013, filming ended at Virginia Beach in July of 2013 and then they returned home to California experiencing some bumps along the way. The trip was not an easy task for a micro-budget independent film production. See the spectacular views and touching story in the trailer below..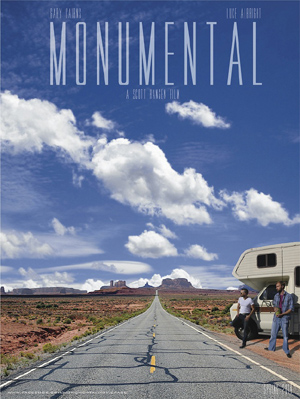 Monumental is a story of two young men who journey across the U.S.A to honor one's mother by spreading her ashes at monuments she always dreamed of visiting. Along the way they encounter interesting characters and dangerous situations that force them to question their own character and their life-long friendship. Marital strife, jail time, car chases, old secrets and a demolition derby all threaten to derail their trip and their lives.
Starring Gary Cairns (Malignant, Daylight's End), Luke Albright (The Devils Pass), AnnaMaria Demara (Sullivan & Sons), and Agnes Olech (Who's Afraid of Vagina Wolf?).
Special guest appearances by: Bill Oberst Jr., Marshal Hilton, and Geo Santini.
Directed by Scott B. Hansen from Digital Thunderdome.
Produced by: Stuart Page, Gary Cairns, Luke Albright, and Scott B. Hansen.
Executive Produced by: Baron Bodnar from Mediaskare, Hans Peter-Zimmermann and Matt L. Lockhart.
Co-Produced by: Chad Law and Christine Conradt.
Associate Producers: Libby Anderson, Teresa Baker, John-Michael Coutsos, Mary Dixon, Mem Ferda, Charles Page, Paul Pawlowski and Wendy Shepherd.
Follow updates about Monumental on Facebook (https://www.facebook.com/monumentalmoviepage) and Twitter (https://twitter.com/monumental_film).