Jeff Richards is an independent filmmaker out of Vancouver, B.C. Like many struggling filmmakers, Jeff is trying to raise the money for his web series through the crowdfunding site, Indiegogo. Jeff's sci-fi comedy web series, "Jacked", is about a man trapped on the internet, it is reminiscent of such shows as Red Dwarf and Spaced. We recently spoke to Jeff about "Jacked", crowdfunding and other upcoming projects.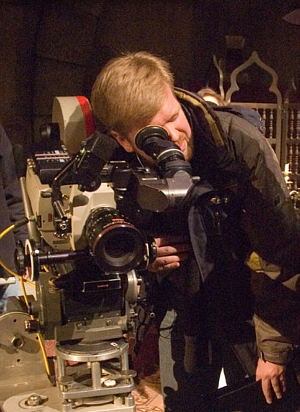 Mandy: What inspired you to try a web series?
Jeff: I think the future of independent filmmaking is on the web. Theatrical and DVD windows are closing for indies, but the web lets filmmakers connect with their fans and distribute their projects at little to no cost. Monetization is an ongoing challenge, but the access to audiences, and the chance to be part of an exciting new medium, makes it worth it.
Mandy: Why did you go the fund raising route?
Jeff: Conventional investment just doesn't work for web series work except in very rare circumstances; there's not a profit model in the near term. Using crowdfunding allows us to raise the funds and, far more importantly, connect with potential fans of Jacked. Growing a fan base is the most important part of being an independent filmmaker and crowdfunding lets me connect with existing fans and find new ones throughout the campaign. And who you discover will surprise you; one fan ended up being a fantastic graphic designer, Stephanie Malone, who redesigned our logo just because she loved the campaign. And the new logo looks fantastic!
Mandy:  Do you think that projects funded independently by sites like Indiegogo and Kickstarter are changing how movies are made?
Jeff: In terms of the overall film industry, not yet, no. In the independent world, it is definitely changing. However, it's hard to say how sustainable it is. In the past, amateurs, students, emerging professionals, and established pros all had their own avenues, but crowdfunding is lumping us all together. Without being a big name brand, it can be hard to stand out from all the other projects. What ends up making you stand out is, ironically, the same things that make you stand out in the traditional landscape: stars, track record, poster, trailer, original concept, production design.
The game changer for movies as a whole will be when an A-lister comes to a crowdfunding site and looks to raise tens of millions of dollars. If they get it, the landscape will change substantially; however, it may change even more if they don't.
Mandy: Tell us about Jacked?
Jeff: Jacked is the story of a man who is hopeless with technology, yet takes a job testing a new type of computer interface. At least, that's what he thinks the job is; he's actually an unwitting subject in an experiment testing long-term exposure to virtual reality. Now he's trapped on the Internet, he knows nothing about computers or the Net, the programs are all people, most of them are somewhat crazy, and a lot of them want to kill him.
Mandy: You are influenced by both sci fi and British comedy, that's definitely different combination, what is it about these genres?
Jeff: My own voice as a writer tends in that direction; whenever I'd write comedy for a North American producer, I'd always be told I needed to make it "less British", so when it came time to write my own, I didn't have to resist my natural inclinations. I love the British humour writers like Douglas Adams and Terry Pratchett, and shows like Red Dwarf and Blackadder are some of my favourites. Sci-fi, similarly, has always been a love of mine, from Arthur C. Clarke and Isaac Asimov to Star Trek and Blade Runner. The combination? Comedy is about putting people in situations they can't handle, and you can't beat sci-fi for that!
Mandy: What else are you influenced by, whether in movies or life?
Jeff: My influences in writing and film range from writers like David Eddings and Neil Gaiman to the authors and shows mentioned above. In terms of filmmaking, I have enormous respect for Norman Jewison and how he puts his mark on films with subtlety. Contrast that with, say, when I saw a single shot from a trailer and knew it must be a film by a particular filmmaker. I far prefer creators like Jewison who can simply let the story speak.
Outside of films and books, music is a huge part of my life; I used to sing opera, and my wife is a phenomenal opera singer (far better than I ever was!) Mix that in with my former life as a philosophy student and some Zen Buddhism studies, and it's a pretty eclectic mix!
Mandy: What aspect of the film making business do you enjoy the most?
Jeff: Collaboration. I'm not one of those directors where I've planned out every single slight detail down to the shape of the buttons on a character's coat. Yes, I've created the world, but when I have someone who sleeps, eats, and breathes costume, or production design, or any other field, why shouldn't I work with them, find out what they can add? I love it when actors surprise me with character interpretations, or when someone suggests something that hadn't occurred to me about the world. That's why I make films rather than write books; I want to see what other artists do with our collective imagination.
Mandy: What would be your dream project, if you had an unlimited budget and total control?
Jeff: This will never happen, but I would love to do a CG-laden, no-cost-limits version of Wagner's The Ring Cycle. It is, in my opinion, the greatest artistic achievement in Western civilization, and no theatrical version can ever capture the full impact of the events described. However, I don't think I can convince distributors to put a $500 million dollar 17 hour German opera into the multiplexes…
Mandy: What is your favorite movie?
Jeff: An impossible question. Some that occur: Citizen Kane, Blade Runner, Lawrence of Arabia, Die Hard, Ghostbusters, Seven Samurai, Alien, Lethal Weapon. Those all executed what they set out to do perfectly, and that to me is the mark of a great film.
Mandy: Any other upcoming projects your can tell us about?
Jeff: I'm developing a few feature films: The Flipside, a Burton-esque story about a woman who tries to control every element of her life and gets pulled into an alternative reality where nothing makes sense to her. Also, there's Hero, a comedy about feeling significant in today's world, and Raggedy Man, a supernatural thriller about a man who's reality is completely breaking down. Think Jacob's Ladder meets The Sixth Sense. And, of course, more Jacked!
You can find Jeff online at: Allied Alchemy Studios & Twitter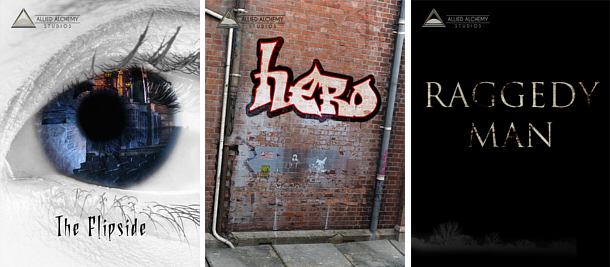 By Mandy Raytik