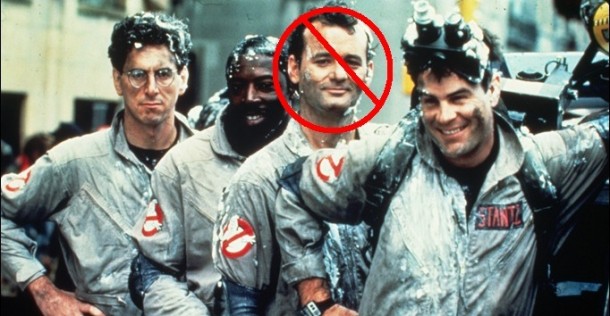 The Telegraph has a profile of Dan Aykroyd, the aging comedian that seems hell bent on resurrecting his Ghostbusters franchise. The article has a few choice quotes in reference to the long in development sequel. The last time Ghostbusters 3 was making the rounds in the rumor mill word was Bill Murray had emphatically turned down the idea on multiple occasions. Here's what Aykroyd had to say when asked on the project's prospects:
"I honestly don't know. At this point it's in suspended animation. The studio, the director Ivan Reitman and Harold Ramis feel there must be a way to do it, but Bill Murray will not do the movie. He doesn't want to be involved. He's got six kids, houses all over America. He golfs in these tournaments where they pay him to turn up and have a laugh. He's into this life and living it. I know we'd have a lot of fun [but] I can't be mad at him. He's a friend first, a colleague second. We have a deep personal relationship that transcends business and he doesn't want to know.

We're not going to do a movie that exploits the franchise. It's a surety that Bill Murray will not do the movie, however there is still interest from the studio."
The irony is that Aykroyd refuses to exploit the franchise while entertaining the idea of going ahead with a sequel without the franchise's iconic character. I'd like to take a moment and pull another quote from Aykroyd out. It's a real gem that concerns his role picking process now:
"I don't want to work any more, really, in film. I will walk out the door for the paycheck I deserve… I'd have to be called up by triple-A superstars. I get offers all the time from filmmakers, but they are unknown quantities. I don't go there and do experiments."
I highlight this quote because it perfectly encapsulates the different method Aykroyd and Murray have. Murray does go out and experiment with filmmakers like Wes Anderson and Sofia Coppola, and his reputation has improved ten-fold. Aykroyd has spent years fading into obscurity as he tries to get a known quantity (that no one really wants to see) off the ground. Just some food for thought.
We'll keep you updated as the story develops.