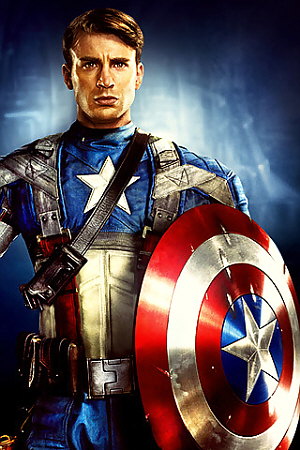 As I exited my Captain America screening this past Friday night, I witnessed a massive line for Harry Potter and the Deathly Hallows queuing up near the doors to the IMAX theater. With the theater for Captain America only half full, I figured the Cap would have the slight blemish of being the only Marvel hero to open at number 2 at the Box Office.
Happily enough, that isn't the case. Paramount is projecting a $65.8 million opening weekend for Captain America, and Warner Bros are projecting $48.1 million for the last Potter.
That $65.8 million for Cap is just ahead of Thor (which debuted with $65.7 million) and well above The Incredible Hulk (which earned just $55.4 million), but still behind Marvel's golden boy Iron Man, whose films opened to $98 million and $128 million.
Of course, no one at Warner Bros is crying over Potter falling to #2. The film broke records domestically and abroad last weekend, so this $48 million is just icing on the cake.
Here's The Weekend's Top Five
1: Captain America $65.8M
2: Harry Potter and the Deathly Hallows $48.1M/$274.2M domestic total
3: Friends With Benefits $18.5M
4: Horrible Bosses $11.7M/$82.4M domestic total
5: Transformers 3 $12M/$325.8M domestic total