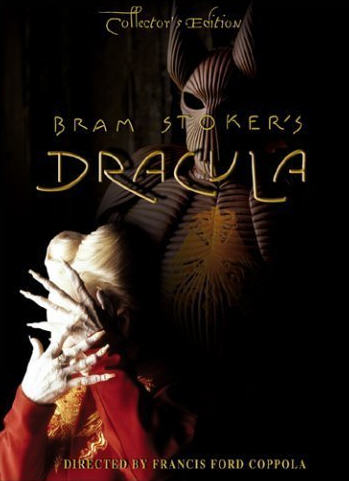 Bram Storker's Dracula is now in a DVD Collector's Edition.  I recommend that if you haven't seen this movie, you should.  The movie is from a classic novel (Dracula) that was written by Bram Stoker in 1897.  It stars Gary Oldman, Winona Ryder, Keanu Reeves, Richard E. Grant, Bill Campell, Sadie Frost, and Anthony Hopkins.  Directed by Francis Ford Coppola.
Disc One of the movie can be seen in a high definition transfer with a film introduction and a full-length director's audio commentary.
Disc Two has four brand new documentaries called:
Blood is the life-making of Dracula.

The costumes are the sets-The design of Eiko Ishioka.

In camera-The Naive Visual Effects.

Method and madness-visualizing Dracula
The plot of the movie is when the famous Romania prince named Vlad Dracula (Gary Oldman), who loses his love (Winona Ryder) and makes a pact with the Devil for revenge. He is cursed, which causes him have to feed on blood to give him eternal life. After seeing a photo of a woman that looks like his love, he then realized its her, he proceeds to travel to England to bring her back.  He finds it is much harder than he thinks when he's hunted down by Van Helsing (Anthony Hopkins).
This movie won three Academy Awards in 1992 for the best costume design, best make-up, and best sound effects editing.
By Michelle Hassenstab