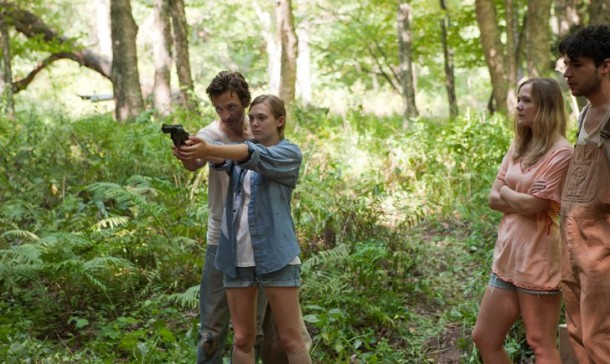 It may be marketed as a pleasant indie flick but Martha Marcy May Marlene is a horror movie. Let there be no miscommunication on that. However, this isn't the type of scary movie where ghosts haunt the house and slashers stalk teenagers. Martha is similar to Black Swan or Red State: films that explore the darkest corners of humanity with unflinching honesty. Writer/Director Sean Durkin uses his camera and words to wring as much tension as possible out of the precarious situation our titular character finds herself in, and the truly scary thing is that these situations aren't far fetched in the slightest.
Elizabeth Olsen (yes, the younger sister of Mary Kate and Ashley) stars as Martha, a confused twenty-something that goes off to find her own way after her mother passes away. Martha soon finds herself in rural New York amongst a group of like minded young people who live on a farm under the supervision of the charismatic and charming Patrick (played by Academy Award nominee John Hawkes). The group acts like a hippie commune: everyone shares the chores and the food equally as they pass the time singing songs and expressing free love. It doesn't take long for Martha to discover the commune's sinister underpinnings, and the young woman flees their land and hides out with her estranged sister who has no idea what Martha's been up to lately.
The film alternates between Martha's time on the farm and her time with her sister and brother-in-law after she escapes. Durkin structures the film to pay off multiple times over as we slowly descend into psychologically shaky ground. Martha's attempt to assimilate back into the real world is undercut by relapses into her memory, and the audience experiences the whiplash first hand. We also experience the horror that accompanies Martha's paranoia: the group is out there looking for her, and when we find out why the paranoia becomes a real concern.
Elizabeth Olsen is a revelation as Martha. She has a beauty that's still approachable and a screen presence that draws you in and makes it impossible not to empathize with her. Jennifer Lawrence broke out like crazy after Winter's Bone and I wouldn't be surprised to see Olsen forge a similar path after this picture.  John Hawkes is (as always) terrific as the cult leader Patrick. If a lesser actress portrayed Martha this would be his flick to steal, but instead Hawkes plays off Olsen in all the right ways, making for an incredible cinematic team.
Some dull minded folks may have a problem with the film's ending, which I won't spoil. Suffice it to say there is resolution here, but not in the way mainstream cinema-goers are used to. This is a quiet horror film dedicated to putting you on edge, and the ending reflects that intent. I applaud this film for not being cheap, and the ending is (while emotionally frustrating) thematically consistent.
The ending aside, Martha Marcy May Marlene is one of the best horror films to come along in years and a spectacular debut for Elizabeth Olsen and Sean Durkin. I eagerly look forward to what they do next.
Martha Marcy May Marlene is now available on BluRay and DVD. You can order a copy right here.