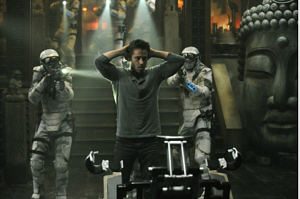 In the upcoming remake of the Arnold Schwarzenegger film, Total Recall starring Colin Farrell in the role of Douglas Quaid, it has been announced that the return of the famous three-breasted woman is almost guaranteed. Whether it be on DVD or in the theatrical release, director Len Wiseman confirmed that she will be featured in the film. Total Recall is due for release on August 3rd, 2012.
Movie Plot: As the nation states Euromerica and New Shanghai vie for supremacy, a factory worker (Farrell) begins to suspect that he's a spy, though he is unaware which side of the fight he's on.
Directed by Len Wiseman | Cast includes: Kate Beckinsale, Colin Farrell, Bryan Cranston, Jessica Biel, Bill Nighy, Ethan Hawke, John Cho, Bokeem Woodbine, Will Yun Lee, Currie Graham, Michael Theriault and Dylan Smith.