Seraph Films has just revealed that what appeared to be a sequence of fan videos is actually the start of their new web series "The Disappearance of Madison Bishop". The prologue season has just concluded with their most recent video upload today.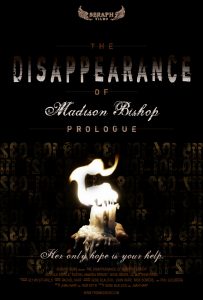 The story follows a young woman named Chloe, three years after her sister, Madison Bishop, was kidnapped. At the start of the series, Chloe is sent a strange YouTube video that seems potentially related to her sister. With the help of the YouTube community, Chloe is able to discover clues within the odd video that set her on the trail of her long-lost sister, Madison. As the community has grown, Chloe has been sent more and more videos, each with more complex puzzles that lead her further down a rabbit hole of conspiracy and occultism. Chloe's pursuit of her sister has been shaped by the YouTube community, as they've discovered clues and potential places of interest that Chloe never expected to find. The community has stepped up and aided Chloe in a dangerous, tense investigation that has spanned multiple continents. Now, having finally met with her sister, Chloe discovers that the road to saving her sister, and herself, is going to be a lot harder than anyone could have guessed… and the only way she'll survive is with the community's help.
You can watch the entire series at www.findmadison.com or at Seraph Film's YouTube channel here: https://www.youtube.com/playlist?list=PLTv5PuPH45wEbG0dfUtD6RXGJqZGwi_I0
Gene Blalock is the founder of Seraph Films. He's an award-winning Los Angeles-based director, known for his touching, heart-warming films as much as his eccentric short horror vignettes. Bringing a decidedly human perspective to each of his works, Gene's works reflect our common humanity back, as if from a mirror of compassion, for us to examine and consider. Regardless of genre, Gene's work rings true in a thought-provoking way.