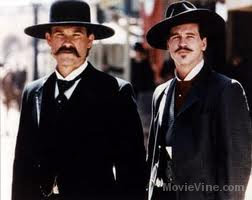 In honor of all the inspiration he provided to me as a youth and even now and for all the work he has brought forth to the film industry, I'd like to take this time to personally thank Mr. Kurt Russell for spending his time and energy to create such art and joy in film. After 60 years of life and 54 years of film, he has left a trail of awe-inspiring portrayals that have rocked the world forever.
Kurt Russell has been a favorite actor of mine since before I can even remember. Growing up on great films such as Big Trouble in Little China, Captain Ron, Escape from New York, Escape from L.A., Overboard, Soldier, Tango & Cash and Tombstone, as well as discovering other films in my teenage years including Sky High and The Thing, I learned a great deal about the talent in him.
This industry is a tough one with many great talented individuals, but fading into the good night is the class-act and good-hearted generation of actors. Kurt Russell still remains as one of the most committed and admirable actors and though I've never met him, he seems like the kind of guy you can sit down and talk with. A human being who sees himself as such and treats fans as equals.
He is similar to John Wayne in his portrayals as Snake Plissken and Jack Burton, the reluctant hero who steps up to the challenge and overcomes great obstacles. Kurt Russell is the first on my list of actors to thank via stories for their commitment and exceptional skill in the film industry. An inspiration to how I see myself in crafting films and an ideal role model for my generation.
Kurt Russell is an actor I recommend you keep an eye on and view his past creations in this ever-challenging generation of film.