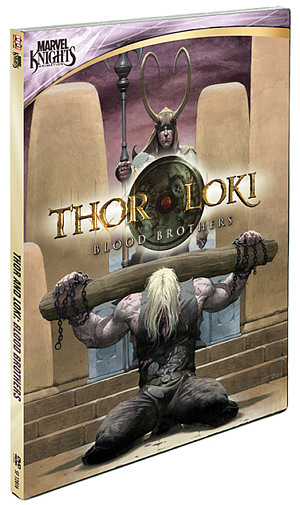 INTRODUCTION:
The Thor and Loki: Blood Brothers film is a great addition to the Marvel universe. With a great cast, animations, story, sound and music, the film keeps you on the edge of your seat, waiting for the next moment. Dealing with the brother Thor and Loki, the film captivates a story within Asgard that is surrounded by grim events and turns.
ANIMATION: 10/10
The animation is intriguing and colorful. The characters look none less than cool and sharp. Every moment has many things to look upon and the film brings together the plot through great animations and vivid poses.
CASTING: 10/10
The voice cast is amazing. Every role perfected and every voice fitting of the character of which they portray. The cast keeps you waiting for the next step in the story with eagerness, especially those of Thor and Loki.
MUSIC: 10/10
The music helps envelop the audience in the film and blends well with each scene. Dark tones and depressing themes cast a great shadow upon the film and give the audience more amazing sounds to take in.
STORY: 10/10
The story is great to the characters of Thor and Loki. It revolves around Loki taking the throne and ruling the kingdom of Asgard over many, including his brother Thor, the God of Thunder. He is soon ordered to execute Thor in order to prevent any vengeance and backfire of his command. The writing in the film as well is great, with witty and matching to the tone of the film dialogue.
OVERALL: 10/10
Thor & Loki: Blood Brothers is a new telling of stories for Thor and Loki. After this years live-action Thor, this film is a great addition to the series and keeps the audience ready for more in the Thor verse.