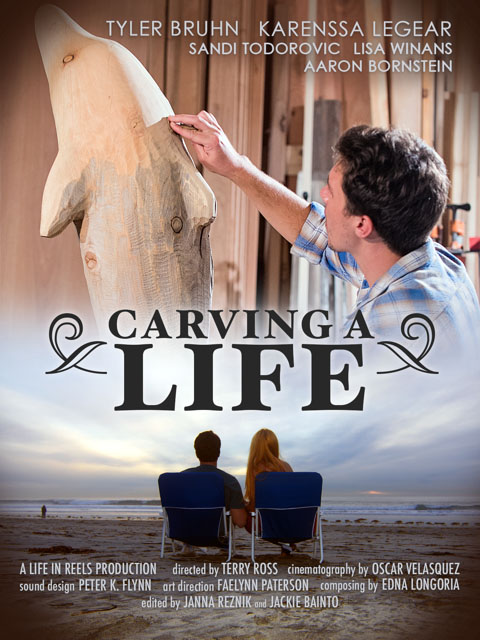 Life in Reels Productions is releasing the award-winning feature film titled "Carving a Life". Distributed by IndieRights, the film debuts as a limited theater premiere at the Arena Cinelounge in Los Angeles on October 13. In addition to the premiere, the film is also available on Google Play and Amazon Video on Demand the same day.
Here's a brief story line:
"Carving A Life" gives us a vivid insight into the undaunting world of love, marriage, and second chances. The story follows the life of Mitch, a 25-year-old wood carving artist, who falls for Lauren, an elementary school teacher. Their newlywed bliss takes a quick downward turn when Lauren discovers she's pregnant and Mitch struggles with haunting memories, addiction, and health issues.
Take a look at the official trailer below:
The cast of "Carving a Life" includes actors Tyler Bruhn (as Mitch), Karenssa LeGear (as Lauren), Sandi Todorovic (as Eric), Aaron Landon Bornstein (as Stephen), Lisa Winans (as Rebecca), featuring Navid Negahban (as Dr. Kasem) with more cast listed on the film's IMDb.
The film's crew includes award-winning director Terry Ross and writer / executive producer Lisa Bruhn, cinematographer Oscar Velasquez, sound designer Peter K. Flynn, art director Faelynn Paterson, editors Janna Resnik and Jackie Bainto, assistant director Gabe Pan, line producer Evette Betancourt with original music composed by Edna Alejandra Longoria.
"Carving a Life" recently won the prestigious Award of Recognition from the IndieFEST Film Awards. Director Terry Ross and writer / executive producer Lisa Bruhn won an award for best female filmmakers and actor Tyler Bruhn won an award for Best Actor.
More information can be found on the official film website and exclusive video interviews are being published on the official social media links on Twitter, Facebook, Instagram and YouTube.
Life in Reels Productions is a San Diego based production company with an official website here.