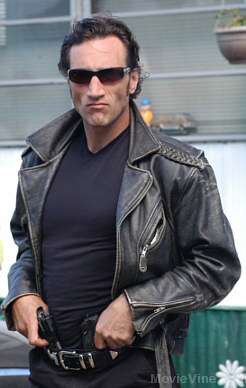 Bernard Robichaud seems to be most known for his role as Cyrus in the Trailer Park Boys. He has roles in other films and does comedy shows as well. Learn more about Bernard and his latest below…
Michelle: In American Sunset, you play a bounty hunter/lawyer; Was it hard to play two characters?
Bernard: Not at all, the mere fact that the characters were forged of the same background and essentially working towards the same goal of uncovering the fraudulent corporate affairs. The bounty hunter was Bob Ferland, the lawyer, in disguise to uncover the issues surrounding the monies which had gone missing through the corporation.
Michelle: How did you prepare yourself going in and out of these two characters for this movie?
Bernard: The characters were never shot on the same day so I never had to worry about jumping in and out of one character to another, although had that been the case as I said, they were essentially the same man.
Michelle: Which do you prefer, acting or writing?
Bernard: I can't say that I enjoy one any less than the other. Both have allowed me the opportunity when I've had it to create and both have been great therapy in the sense that I was able to explore who I am, where I've been, and where I've come from and use those experiences to bring my character or any I was writing to life.
Michelle: How was it working with the late Corey Haim?
Bernard: Corey was a great guy, we got along famously from the first day I picked he and his mother at the airport. His death was untimely and sad. I believe if it wasn't for his misfortune he would've accomplished his goal of a comeback and earned the respect of his peers he so badly wanted back. His ability as an actor was not even in question with his long history of film. He was a true professional, always giving and always willing to explore the thoughts of those supporting cast around him. It was my pleasure.
Michelle: Do you ever get people coming up to you and asking you to do the Cyrus impression?
Bernard: Hahahaha yes all the time, although many more like to give me their impression or impersonation of me. I guess it's usually just a question of which line from the show, many have their own favorite although if you know the show there is certainly one line that always stands out amongst the rest, which I won't bother you with by dropping the 'f' bomb.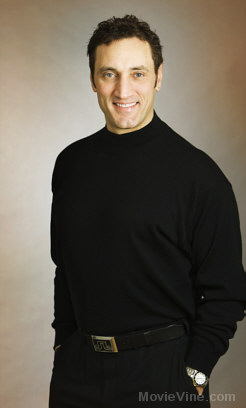 Michelle: Do you have a favorite character(s) that you have played?
Bernard: Not really every character I've had the privilege to play over the years have all been special one way or the other. I believe the Cyrus character has certainly helped propel my career to some extent however that being said I've been acting for a long time, so I have to believe I'm doing something right for those I've been blessed to work with and those that have hired me to do the job they hired me to do, big or small, all the characters play an important role.
Michelle: Do you have any new projects coming up?
Bernard: I have auditioned recently for a few roles which haven't made any decisions as yet and haven't gone to camera, but at the moment I've been concentrating most of my energies co-writing a new sitcom for TV called the Adventures of Black Bart. A uneducated drug dealer on parole who is mistaken for a remedial substitute teacher while selling brownies at a high school bake sale. We'll see, I have my fingers crossed, but the producers love it, I hope fans will.
Thank you for your interest in me, it's very much appreciated and I'm always humbled by those who have taken the time for me and taken an interest. It was my pleasure to take the time to answer your questions. B
You can visit Bernard's official website at: http://www.bernardrobichaud.com
By Michelle Hassenstab