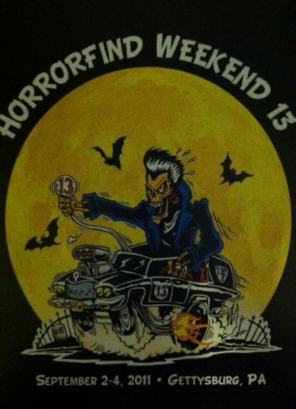 GETTYSBURG, PA -The 13th annual HORRORFIND convention took place over the weekend, which had a great turn out of out of celebrities, authors, artists, vendors and directors.  I find this convention different than most I attend because it showcases independent films, artist and authors. You wont find any movie playing you ever saw because the whole weekend they show only indie directed films that people can vote for at the end of the weekend as best film.  I was able to watch a lot of good and bad films, but overall had much respect for all of them because you can see how hard they worked to put them together. Some of the films were 10 mins, some 1 hour, some gory, some scary or just plain funny, but all the films catered to every ones horror likes.
For me the highlight of weekend was meeting John Waters.  I have watched his films from when I was young and have always had a great amount of respect for his work and trying to figure out where he comes up with the ideas for his films. I haven't been this nervous to meet someone since the first day I ever attended a convention. But John was very nice, polite and talked to me like he was a friend.  After the meet and greet he had a stand up act in the main auditorium based on his new book,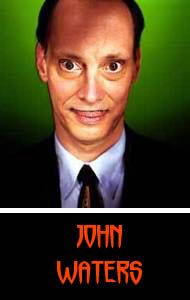 "THIS FILTHY HORROR" an evening with John Waters. It was great he had the audience laughing from beginning to end. I also loved his stories of his best friend Divine and what he liked to see him in now if he were alive. You could see how much he missed him. He went as far as to reveal that he bought a plot next to divine so that they would be forever together even in death.  A truly great man in my opinion and worth the 3 and ½ hour drive to get there.
After the JW show you found most people at the bar partaking in scaryoke and yes it was exactly what it sounds like. Very intoxicated people trying to sing karaoke very loudly and badly, I might add.  But it was all in fun and people had a good time. Which pretty much concluded Friday night.
The next day there were double the amount of people at the show. Their was also a number of celebrities to meet and every one I had the chance to meet or watch were extremely nice, smiled and gave lots of hugs. Not one celebrity made you feel rushed which was great.
The celebrity guest list that made an appearance were:
*Conrad Brooks          *Lisa Wilcox            *William Sanderson
*Philip Friedman        *Ken Foree              *Jill Schoelen
*Ashley Jones            *George Kosana      *Brian Thompson
*Brit Morgan               *Derek Mears          *Dee Wallace
*Nivek Orgre               *Bill Moseley           *Amanda Wyss
*John Russo                *Sid Haig               *Scout Taylor – Compton
*Julian Sands              *Roddy Piper          *Sam Tremmell
The lines to see the True Blood Cast ~ Sam, Ashley and Brit were around the corner. As well as Brian Thompson and Sid Haig all had lines wrapped around to the outside of the main rooms. But overall I waited in line no more than 30 mins to meet any one celebrity.
There was also a day full of author's reading excerpts from their books in different rooms as well as outside readings. All the books were horror focused but some were kid scary and some just suspenseful. But if you enjoy reading horror stories this was the place to discover some new exciting books.
There was also a day of seminars around the hotel; they had classes featuring how to use gelatin prosthetics or make up wars or how to have a high production value haunt on a low budget. The popular seminar featured acting and auditioning for independent horror films.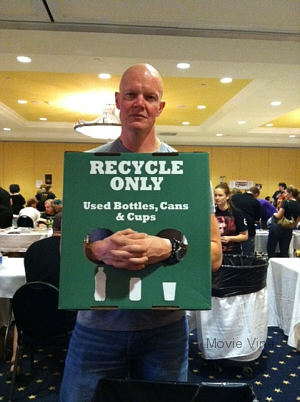 The film festival was still running strong all day. You could watch the movies, go to a seminar, visit the vendor rooms or sit on an author reading. There were endless things you could attend to keep your interest.
By nightfall there was a costume contest that was hosted by Dee Wallace, Ken Foree, Scout Taylor-Compton and Derek Mears. I am sure the contestants were more nervous presenting their outfits in front of them then wearing them around all day at the show. After the costume contest they had a Zombie Promo at the bar with another round of scaryoke. Again, another reason for intoxicated people to sing really loud and badly just now just dressed up as dead zombie prom people.  I will admit this was my favorite because some people were very creative with their costumes. But overall, everyone did a great job on dressing up through out the whole weekend. This was the only convention besides comic cons that I see a lot of people dressed up all weekend in the scariest costumes they can find.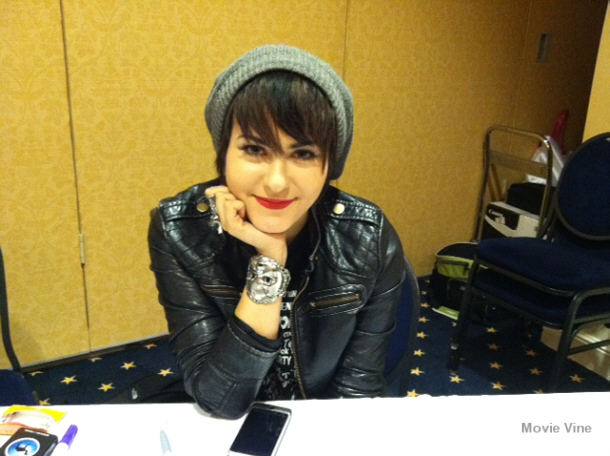 By Sunday, the event was ending with their signature auction and the wrap up of the film festival. The convention is a big supporter of the "SCARES THAT CARES" foundation. All proceeds from the auction go to the helping sick kids. You can visit the site and donate at any time. WWW.SCARESTHATCARES.ORG.  The big auction item focused on a signed guitar by over 50 celebs that was donated to help the charity. Also, Kane Hodder (from F13 films) is a fan of the cause and is also helping to support the organization. I mention Kane because he was a big focus for the cause and he wasn't even there.
Overall, this was a great weekend, met a lot of cool people, saw a lot of great demonstrations and bought some unique horror gifts. I plan to come back next year and I hope you try to too because this show was worth the wait.
By Rachael Tedeschi