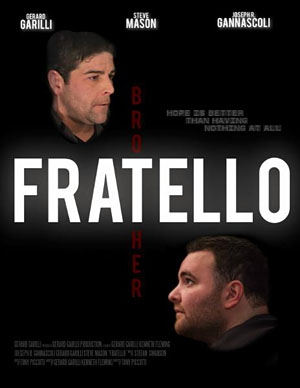 Fratello is a tale and a film that gives me reminders of various parts of classics including Snatch and Four Brothers. A film wrapped in heart, with a story to keep you entertained and invested in the characters.
Directed by Jason King, the film follows two brothers, Jimmy and Todd, on their journey through tragic times. On the edge of sorrow and desperation, with reflections and flashbacks (to their past to show the audience their history together). Portrays a family with a bond that is unbreakable and a love that is strong.
Starring Gerard Garilli, Steve Mason, Devin Parentice, Mike Giordani, Justine Garilli, Pe'er Klein, Daria Berenato and Joseph R. Gannescoli, the film is well acted and well written and features a memorable cast and characters. I could feel my emotions being invoked with my viewing of this film. At an hour long, the pacing was excellent and never left me wandering off.
I recommend this film to those with a passion for brotherhood, core emotions and character-driven plot. It is well done and an entertaining piece of art.