Fast Five, one of the highest grossing, action-packed thrill rides of the year speeds to home media on October 4th, 2011. The film stars Vin Diesel, Paul Walker and Dwayne Johnson. The film revolves around a band of crooks setting out for one large score to finally settle their dangerous and wild lifestyle.
The home media release features an extended cut that includes scenes not seen in the theatrical release. Fast Five is likely to come home to a warm welcome as it has with the box-office earlier this year.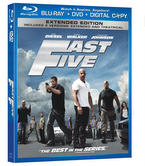 BLU-RAY™ EXCLUSIVE BONUS FEATURES:
·     DOM VS. HOBBS:  Watch how the action-packed showdown was shot
·     ON SET WITH DIRECTOR JUSTIN LIN: Go behind the scenes of Fast Five with director Justin Lin
·     INSIDE THE VAULT CHASE: Learn how they filmed the movie's most dangerous sequence
·     TYRESE TV: Go behind the scenes of Fast Five with Tyrese Gibson
·     NEW!  pocket BLU™ VERSIONS FOR TABLETS AND COMPUTERS, FEATURING UNIVERSAL'S SECOND SCREEN
o   The popular free pocket BLU™ app for smartphones is now even better with newly updated versions for iPad®, Android™ tablets, PC, and Macintosh computers, with features made especially to take advantage of the devices' larger screens and high resolution displays.  And with UNIVERSAL'S SECOND SCREEN, enjoy an innovative and interactive viewing experience, that lets you control, interact and explore Fast Five with groundbreaking new features right on your tablet or computer, in synchronization with the movie on your television screen!  While the movie plays, you'll experience features such as:
–  Take Control 2.0: Step inside the movie with Director Justin Lin, as he takes control of your Blu-ray player and gives you an all-access, in-depth look at how the movie was made.
–  Virtual Car Garage: Get an up-close inspection of the hot cars, moving models of the cars in a 360 degree view, check out tech specs and more with a touch of your finger
–  Scene Explorer: Ever wish you could see how your favorite special effects sequences were created?  Select various progressions of the same scene from storyboards to daily cuts right from your couch and see how they pulled off the incredible action of the film.
– Picture in Picture:The cast and crew share stories about the movie right from your tablet or computer, in synchronization to the scene being played.
– The Music of Fast Five:  Tap your fingers to find out what song is playing, create your own playlist, and even purchase the songs right from your device!
· pocket BLU™:   The groundbreaking pocket BLU™ app uses iPad®, iPhone®, iPod® touch,  Android™ smartphones and tablets, PC and Mac®  to work seamlessly with a network-connected Blu-ray™ player. Consumers will be able to browse through a library of Blu-ray™ content and watch entertaining extras on-the-go in a way that's bigger and better than ever before.  pocket BLU™ offers advanced features such as:
o   DIGITAL COPY:  Now, Users have a whole new way to redeem their Digital Copy of the movie right from within the pocket BLU app!  With a simple three step process, the movie begins downloading instantly to their portable device to take with them anywhere!
o   ADVANCED REMOTE CONTROL: A sleek, elegant new way to operate your Blu-ray™player. Users can navigate through menus, playback and BD-Live™ functions with ease
o   VIDEO TIMELINE:  Users can easily bring up the video timeline, allowing them to instantly access any point in the film
o   MOBILE-TO-GO:  Users can unlock a selection of bonus content with their Blu-ray™ discs to save to their device or to stream from anywhere there is a Wi-Fi network, enabling them to enjoy content on the go, anytime, anywhere
o   BROWSE TITLES:  Users will have access to a complete list of pocket BLU™-enabled titles available and coming to Blu-ray™ Hi-Def.  They can view free previews and see what additional content is available to unlock on their device
o   KEYBOARD:  Entering data is fast and easy with your device's intuitive keyboard
·   BD-LIVE™ – Access the BD-Live™ Center through your Internet-connected player to access the latest trailers, exclusive content, and more!
·   uHEAR™:  Never miss another line of dialogue with this innovative feature that instantly skips back a few seconds on your Blu-ray™ disc and turns on the subtitles to highlight what you missed
Blu-ray™ Combo Pack and dvd combo pack exclusive:
·    DIGITAL COPY:  In addition to redeeming a Digital Copy of the movie through the pocket BLU™ app, Viewers can also download a digital version of the full-length movie from participating digital retailers to enjoy on a choice of popular electronic and portable devices.
Blu-ray™ and dvd BONUS FEATURES:
·    DELETED SCENES
·    GAG REEL
·    DOM'S JOURNEY: Track Vin Diesel's legendary character from the beginning
·    BRIAN O'CONNER: FROM FED TO CON: Follow Paul Walker's character as he goes from lawman to outlaw
·    ENTER FEDERAL AGENT HOBBS: Meet Dom & Brian's toughest nemesis yet
·    FEATURE COMMENTARY WITH DIRECTOR JUSTIN LIN
SYNOPSIS
Vin Diesel and Paul Walker head up an all-star reunion of the explosive Fast franchise set in sultry Rio de Janeiro. Former cop Brian O'Conner (Paul Walker, Fast & Furious, Takers) and his girlfriend Mia Toretto (Jordana Brewster, Fast & Furious, "Dallas") bust Mia's brother Dom (Vin Diesel, Fast & Furious, The Chronicles of Riddick) out of prison, blasting across South America to elude the authorities. Finding themselves backed into a corner in Brazil, they assemble an elite team of top racers to help pull off the one last job that could mean freedom for them all. But hard-nosed federal agent Luke Hobbs (Dwayne Johnson, Faster, The Other Guys) is hot on their trail, and so is a corrupt and powerful businessman who wants them dead.  When Hobbs and his strike force launch an all-out assault to capture the Torettos and their team, he can't separate the good guys from the bad. Instead, he must rely on his instincts to corner his prey…before someone else runs them down first.
CAST AND FILMMAKERS:
Cast: Vin Diesel, Paul Walker, Dwayne Johnson, Jordana Brewster, Tyrese Gibson, Chris "Ludacris" Bridges, Sung Kang, Tego Calderon, Don Omar, Elsa Pataky, Gal Gadot, Matt Schulze
Directed By: Justin Lin
Screenplay By:  Chris Morgan, based on characters created by Gary Scott Thompson
Executive Producers: Amanda Lewis, Samantha Vincent
Producers: Vin Diesel, Michael Fottrell, Neal H. Moritz
Director of Photography: Stephen F. Windon
Production Designer>:  Peter Wenham
Edited By:  Kelly Matsumoto, Fred Raskin, Christian Wagner
Casting By: Deborah Zane
Costume Designer: Sanja Milkovic Hays
Original Music By: Brian Tyler