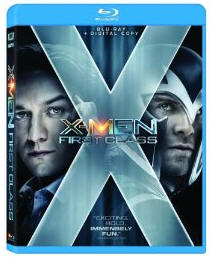 The home video release of X-Men: First Class is nearly upon us (Which boggles my mind. Seriously, Didn't it just get into theaters?) and Entertainment Weekly has an exclusive clip from an extended scene.
For some reason EW won't let me embed, so click here for a (possibly NSFW) extended scene.
The bit occurs during the recruitment montage, specifically when Magneto and Xavier go to the strip club where Zoe Kravitz's Angel is working undercover. In the final film, Magneto just showed off his powers and Angel showed off her wings. Apparently director Matthew Vaughn had another bit in mind for Xavier.
I quite enjoyed X-Men: First Class, and I'm not sure how I'd have reacted to this in theaters. The girls swooning over Michael Fassbender would have gotten a kick out of their crush in a brief moment of drag, but hardcore comic fans probably would have wanted Vaughn's head on a spit for besmirching Magneto's badass visage.
You can pre-order X-Men: First Class here
. The DVD and BluRay hits shelves on September 9th.