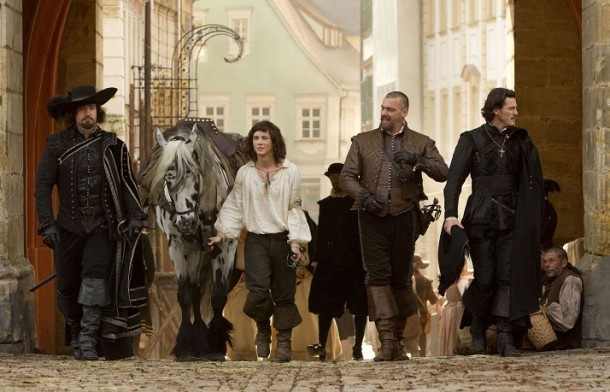 I've always been a big fan of Alexandre Dumas' classic swashbucklers, and I've seen plenty of filmed adaptations. I missed out on Summit Entertainment's 2011 actioner though, so I'm excited for the home media release of The Three Musketeers. Summit sent out a press release earlier this morning with details. Here's a synopsis from that release:
A modern retelling of Alexander Dumas' timeless swashbuckling classic – arrives on 3D Blu-ray™, Blu-ray and DVD March 13th from Summit Entertainment.  This exciting adventure for the whole family stars Logan Lerman (Percy Jackson & the Olympians), Orlando Bloom (Pirates of the Caribbean films), Milla Jovovich (Resident Evil films) and Academy Award-winner Christoph Waltz (Best Supporting Actor, Inglourious Basterds).

With powerful special effects and explosive visuals, The Three Musketeers comes to life onscreen as Athos (Matthew Macfadyen), Porthos (Ray Stevenson) and Aramis (Luke Evans), along with aspiring warrior, D'Artagnan (Lerman), embark on a dangerous and legendary mission across Europe to save both their King and country – "all for one and one for all."

The Three Musketeers is directed by Paul W.S. Anderson (Resident Evil) and co-written by Alex Litvak (Predators).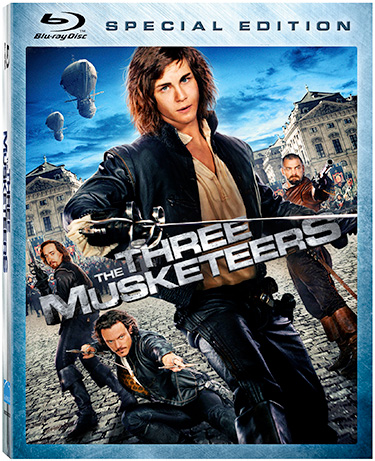 The Three Musketeers hits BluRay and DVD on March 13th, 2012. You can pre-order a copy right here.