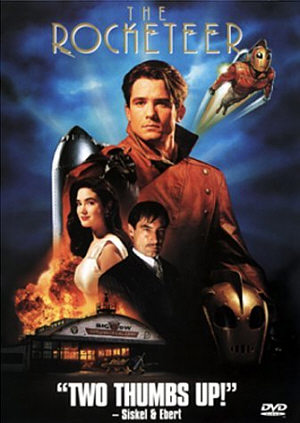 There isn't a press release in sight on this one, so either Disney is quietly making this available (fat chance) or the folks at Amazon created a listing just a tad too early (more likely). Regardless: Joe Johnston's beloved cult classic The Rocketeer is arriving on BluRay with a 20th anniversary edition this December.
Disney is surely glad to be able to cash in on Johnston's older work, especially since his latest, Captain America (my review here!) is not only a huge success but also inspiring many to seek out 1930s and 40s pulp entertainment. The Rocketeer hit's that sweet spot, and would make a fine double feature with Cap.
From Disney's DVD archives, here's a synopsis:
The discovery of a top-secret jetpack hurls test pilot Cliff Secord (Billy Campbell) into a daring adventure of mystery, suspense, and intrigue! Cliff encounters an assortment of ruthless villains, led by a Hollywood screen star who's a secret Nazi spy (Timothy Dalton). With the help of his actress girlfriend (Jennifer Connelly), the young pilot battles enormous odds to defeat his foes who are anxious to use the device in an evil plan to rule the world! The dangerous mission transforms the ordinary young man into an extraordinary hero!
And here's a trailer:
I'm sure a full press release with a full list of special features and the like will soon be made available, but really, it's The Rocketeer on Blu Ray. What more do you need to know?
You can pre-order the Blu Ray right here
 The Rocketeer hits shelves on December 13th, 2011