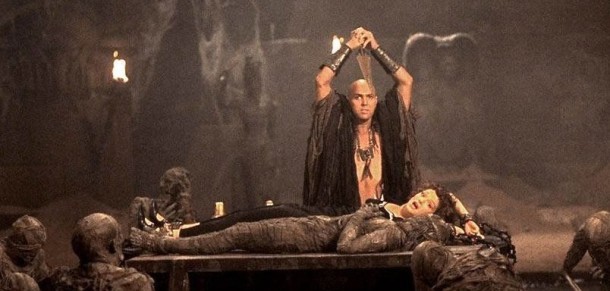 Back in 1999 Universal had two surprise smash hits on their hands: American Pie and The Mummy. One of those films is getting their third theatrical sequel this Friday. The other is getting a reboot. Yay, Hollywood!!
Variety has the scoop on the studio's hiring of screenwriter Jon Spaihts to develop the project. Spaihts wrote the first few drafts of Prometheus before Lost's Damon Lindelof came in to polish the final script, and now that Prometheus is the new hot thing you can expect anyone remotely involved to get a career boost. "I see it as the sort of opportunity I had with Prometheus: to go back to a franchise's roots in dark, scary source material and simultaneously open it up to an epic scale we haven't seen before," Spaihts told the showbiz paper.
There's no news on whether or not this will be a reboot of the 1999 Mummy with a new take on Brendan Fraser's Rick O'Connell and company or if Spaihts is going back to the 30s and 40s Mummy flicks for inspiration. It'll probably be a hybrid of sorts, and I'm guessing the "epic scale" refers to an army of mummies or something like that.
We'll keep you updated as the story develops.