The Lorax, the hit animated adaptation of Dr Seuss' classic story, is arriving on BluRay and DVD on August 7th, 2012.
From the press release:
Dr. Seuss' The Lorax transports viewers into a fantastical landscape imagined by Dr. Seuss and vividly brought to life by Chris Meledandri and his acclaimed filmmaking team at Illumination Entertainment (Despicable Me). Directed by Chris Renaud (Despicable Me) from a screenplay adapted by Ken Daurio and Cinco Paul (Despicable Me, HOP, Horton Hears a Who) from the 1971 children's classic, the film is an imaginative journey that begins in the town of Thneedville, where a boy searches for the one thing he knows will win the heart of his dream girl. But in order find it, he must discover the story of the Lorax, the often grumpy but loveable protector of Truffula Valley, in an exciting adventure filled with comedy and heart that USA Today's Claudia Puig calls, "The right blend of funny, silly, and sweet."

Danny DeVito ("It's Always Sunny in Philadelphia," Twins, L.A. Confidential) lends his unmistakable voice to the Lorax, the remarkable creature who "speaks for the trees," with Ed Helms (The Hangover, The Hangover Part II, "The Office") as his enigmatic nemesis, the Once-ler. The all-star cast also includes Zac Efron (High School Musical, The Lucky One, 17 Again) as Ted, an idealistic 12-year-old searching for the Lorax; Grammy® Award winner Taylor Swift (Valentine's Day) as Audrey, the girl of Ted's dreams; Rob Riggle (The Hangover, Big Miracle) as the villainous O'Hare; Jenny Slate (Alvin and the Chipmunks: Chipwrecked, "SNL") as Ted's protective mother; and five-time Emmy® Award winner Betty White (The Proposal, "Hot in Cleveland") as Ted's wise Grammy Norma.

One of the best-selling children's book authors of all time, Theodor "Dr. Seuss" Geisel created more than 40 cherished books that have been published in 95 countries and 17 different languages, selling more than half a billion books worldwide. The Lorax, which Geisel named his favorite work, is included on the "Educator's All Time Top 20 List of Children's Books."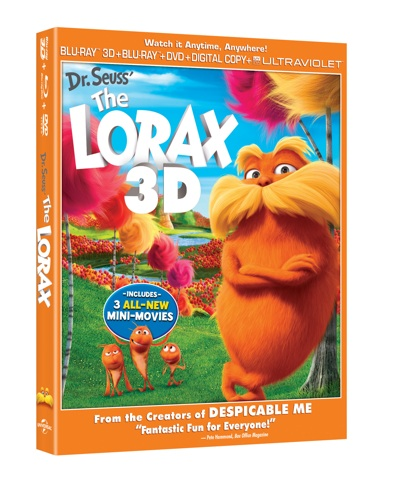 The flick comes in 3D BluRay, standard Blu, and DVD. Each edition is packed with special features that kids and adults will love. We'll have a full review of the BluRay when it's closer to release.