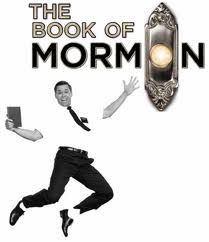 EW has the scoop on the Broadway smash hit The Book Of Mormon becoming a feature film…someday. Trey Parker and Matt Stone, creators of Mormon as well as South Park and Team America: World Police chatted briefly with the magazine, saying that the musical is definitely headed for the big screen.  "Hopefully it will have a big run and a big tour and then we can do the movie in several years," says Parker.
The musical, which pokes fun at all religions in one way or another through the Mormon lens, won a slew of Tonys last spring, including Best Musical. The songs and music are insanely catchy. For example, here's a clip from the show's performance at the Tony Ceremony:
The show has to tour first, and then we'll see if Parker and Stone are still up for it, but let's hope they are. We'll keep you updated on the story as it develops.