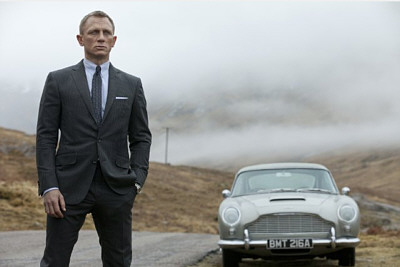 Skyfall is directed by Sam Mendes and stars Daniel Craig, Judi Dench and Javier Bardem.
After the release of Quantum of Solace, there was great disappointment in the James Bond series. The writers' strike had left the film struggling with very little plot, and even had Daniel Craig contributing to the script. So, with Skyfall being the first Bond movie to not be adapted from a Fleming novel, as well as being released on the 50th anniversary of 007's first motion picture adventure, Sam Mendes had a lot to live up to.
The story starts with an aging 007 (Daniel Craig) out in the field, trying to salvage a computer drive that contains the name of every undercover NATO agent in the world. However, Bond is too late and the list is stolen. After taking an extended leave of absence, 007 returns to MI6, slightly worse for wear and showing his age. Despite her doubts about his fitness, M (Judi Dench) takes Bond on as an agent again, only for not just the agency to face a threat from a psychopathic cyber-terrorist, but unfortunately for it to be aimed at M personally.
The British Government put M on trial for the loss of the computer drive, whilst at the same time Bond must demonstrate his loyalties towards her and his country and track down Silva (Javier Bardem), an ex-agent from M's past who is insistent on capturing her, and whilst he doesn't he reveals the identities of the NATO agents. With the help of Bond, Q (Ben Whishaw), and senior civil servant Mallory (Ralph Fiennes), M must track down Silva and find out what he wants from her before it is too late.
Skyfall is a Bond movie like no other. Casino Royale was good but Quantum of Solace disappointed critics and moviegoers. It was plot-less, which might be because it was the first ever Bond sequel. Skyfall is the opposite. There was a clear, well-defined plot that was both interesting and easy to follow. However, this may be because Quantum of Solace was trying to be a typical Bond movie of 20 or 30 years ago, a little dull and with jokes to make the audience cringe, and was unfortunately victim to the writers' strike. Skyfall felt like the Bond franchise had reached the 21st century with plenty of action, but at least in the scenes where there were no explosions or fast cars the dialogue was still stimulating.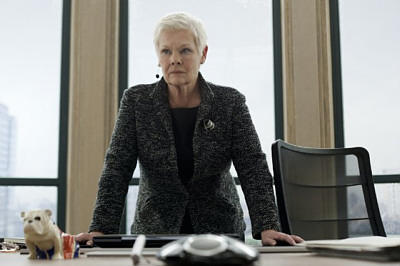 The cinematography is astounding; critics have said Roger Deakins will be up for an Academy Award nomination. One of the central themes of the movie, as well as a point highlighted by Silva, is England- the Empire, her rise and fall. There are some really iconic locations in the film, Bond on St. Paul's, running through Westminster, M's trial at the heart of the government and the tube station scene.
It's been mentioned in several interviews to Sam Mendes that this film resembles Christopher Nolan's Batman trilogy, something he profusely denies. However, there is some truth in the comparison, and nothing to be ashamed of. Silva is similar to the Joker, perhaps not as psychologically scarring, but still a villain with a psychotic mentality. Javier Bardem looks truly terrifying with his platinum hair and even his movements send shivers down your spine. Without revealing anything, the last act of Skyfall reveals more about 007's past, showing viewers a side of Bond's past never seen before. These comparisons throw Mendes up there with Christopher Nolan in creating a smart, sophisticated action movie with a star-studded cast and a great script, with at times very funny one-liners.
Skyfall beyond lived up to its expectations. Daniel Craig has signed on for two more Bond movies, hopefully with Mendes directing. The only challenge they face is matching Skyfall's brilliance.
Movie Vine review by Ellen Daniels