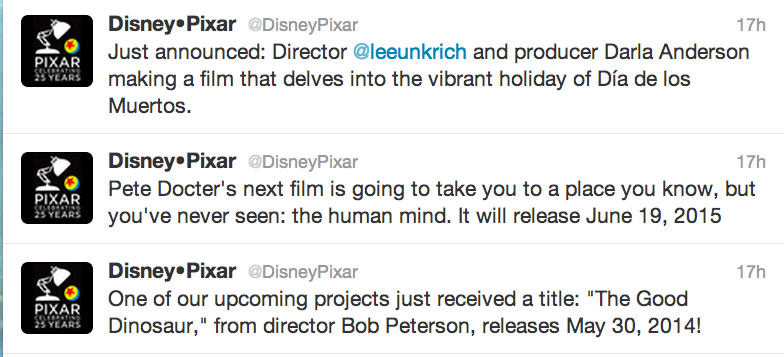 And with that, we can give solid information on Pixar's release slate for the next three years.
We've known a bit about these films for a few months through rumors and conjecture, but this is the first official announcement from Pixar regarding when each flick will hit screens.
Brave arrives this summer, and then the Monsters Inc prequel Monster University comes on June 21st, 2013. Expect a teaser for that to be attached to Brave. 
So for the next few years, Pixar's schedule is going to look like this:
Monster University–June 21st, 2013
The Good Dinosaur–May 30th, 2014
Untitled Pixar Movie That Takes You Inside The Mind–June 19th, 2015
Untitled Pixar Movie About Dia de Los Muertos–TBD 2016
So there you have it. Out of all of those I'm most excited for The Good Dinosaur, a film that explores a world where dinosaurs didn't go extinct but rather co-exist with man. To be honest I'm interested in anything with the word "Dinosaur" in the title, an interest I assume we all share.
We'll keep you updated on all these as their stories develop.